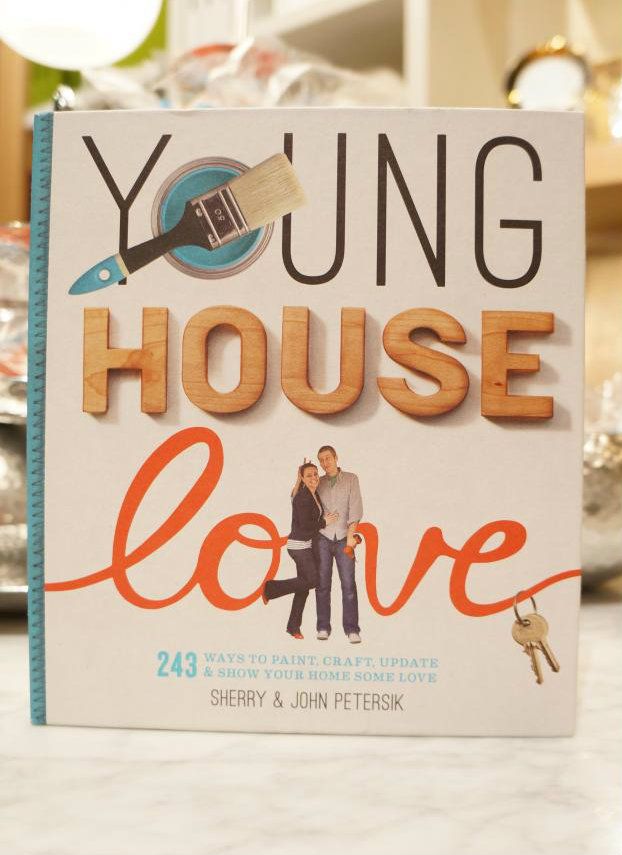 On Wednesday, I fulfilled a life-long dream.
Okay, maybe it was just a month-long dream, but as soon as I found out John and Sherry from Young House Love were coming to Minneapolis, I started dreaming the sweet dreams of meeting my online BFFs like a teenage girl dreams about meeting Justin Bieber. When I received the Facebook invite, I RSVP'd faster than you can say "DIY" and made plans with my friends to go.
Never before had I been to a book-signing, or any "celebrity meet-and-greet" for that matter, but let me tell you, it was completely worth it for the Petersiks. The event started at 6 p.m. but we got there at 4:30 p.m. to find parking and get in line. When we got there, we figured we were somewhere in the "300's" portion of the line and a local paper reported there were about a 1,000 people total at the event. Not too shabby.
Promptly at 6 p.m. the line started moving to let people stand inside and we were up to the front doors of West Elm pretty quick.
I had an awesome view into the store, right to where the table that John and Sherry were going to sit at. At that point, everyone started gawking and rubbernecking to try to catch a glimpse. W
hen I saw them,
I totally squealed, pointed and took a billion pictures like a crazed fan. Pretty sure they heard me through the glass.
From there, everything started moving pretty fast (well, it was still about two hours untill we actually got to meet them, but it felt waaay faster). They gave us cocoa and cookies and I got to window shop (Mikey, please take note of my self-control - I spent two hours inside West Elm and only purchased the book. I think that deserves a shopping spree at Crate & Barrel, don't you?) and take a load off as I tried almost all of West Elm's chairs along the route of the line. (I'm pregnant, I can do stuff like that and not be ashamed. Yes, I will work that for all it's worth until I actually have that baby, and then I will tell people that, "I've had a baby, I can do stuff like that and not be ashamed.")
As we got closer and closer to the front, I started getting super nervous - like first-date nervous - I had no clue what to say to them and I just wanted to be funny, and memorable, and loveable, and wonderful, and likeable, and all I could think of is "Hi," and "I like your cookies," and "My hair is ridiculous and I totally look like a tourist with all this junk hanging off me, so I'll just slap a forced smile on and tell everyone I'm pregnant, don't mess, okay?"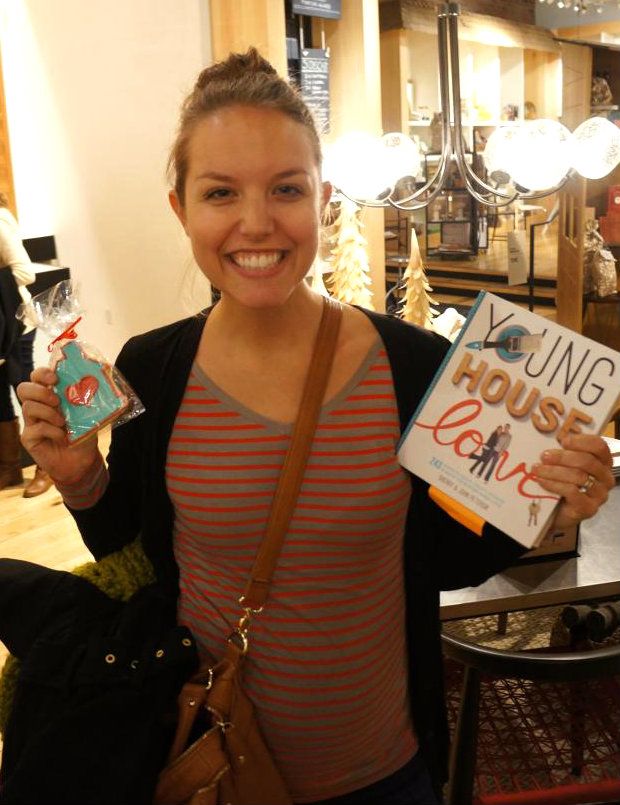 (Horrible pic of me, but I'm keepin' it real cause that's probably what I look like 90 percent of my life. The other 10 percent is even worse.)
But it didn't really matter because they were awesome - I went up with a friend of mine (too scared to go alone - how old am I again?), and we chatted about how long their stay was in Minny (basically a few hours), if they'd seen anything (they had eaten right across the street at Pinstripes. Why hadn't I thought to eat there, then we could have had dinner together and we really would be BFFs?) and if they've ever been here before (John had - his family went to Mall of America and his sister did the Build-A-Bear, naming her bear MOA after the mall).
Oh! And Sherry told me my wedding ring was pretty and sparkly. Yeeesssss. All compliments go to the hubs - but for my part, I had just cleaned it a week ago - Itakecareofmygoodsthankyouverymuch.
30 seconds later, we had taken a quick pic and we were on our way. It was over, but I was just glowing; bliss from the inside out I tell ya. What's so cool is how down-to-Earth they are, just regular people doing totally awesome things and they don't let it go to their heads. If you don't follow their blog already, do yourself a favor and start now, you'll love it.
Thanks so much for coming up John and Sherry!
My fellow Young House Lovers.
Yick. That came out wrong. You know what I mean. Git yo' mind outta da gutter.