I love it when I can say I'm trendy. It doesn't happen often, but when it does, BAM. My mood is instantly better and I'm walking on sunshine for the next hour.
But when I can say that I nailed two trends AT ONCE - well, that's a game changer. In my book, that's pretty much when the heaven's open up, the birds sing my theme song, and I float around in a rainbow and fluffy clouds for the week.
And last week, I did just that - I had an old table that's moved with me ever since I lived in my parent's place about eight years ago and while making it over, I hopped on the chalk paint train and the dipped leg trend. I can't remember why they let me take it, but this thing was absolutely beat on as I dragged it from apartment to apartment over the years. Here she be (I failed to get a good before pic, sorry it's sitting in my messy living room with the drawer on the floor and the knob already removed - use your imagination!):
When we moved into our new place, it was banished to the Library, hidden away as a writing desk, but mainly used for storage. As we started clearing the room in prep for the baby, I figured that thing would end up straight in the dumpster. But then, I had a light-bulb moment - I could refinish the desk to use as my new sewing command center, errr, a sewing table. But "command center" sounds so much better (said in a loud, booming voice), doesn't it?
Anyway, I've used Annie Sloan Chalk Paint before on the card catalog makeover and I knew that I liked the product a lot, plus they had this awesome A
ntibes
Green color that I had been drooling over. I figured this project was the perfect time to test out how I liked it in person.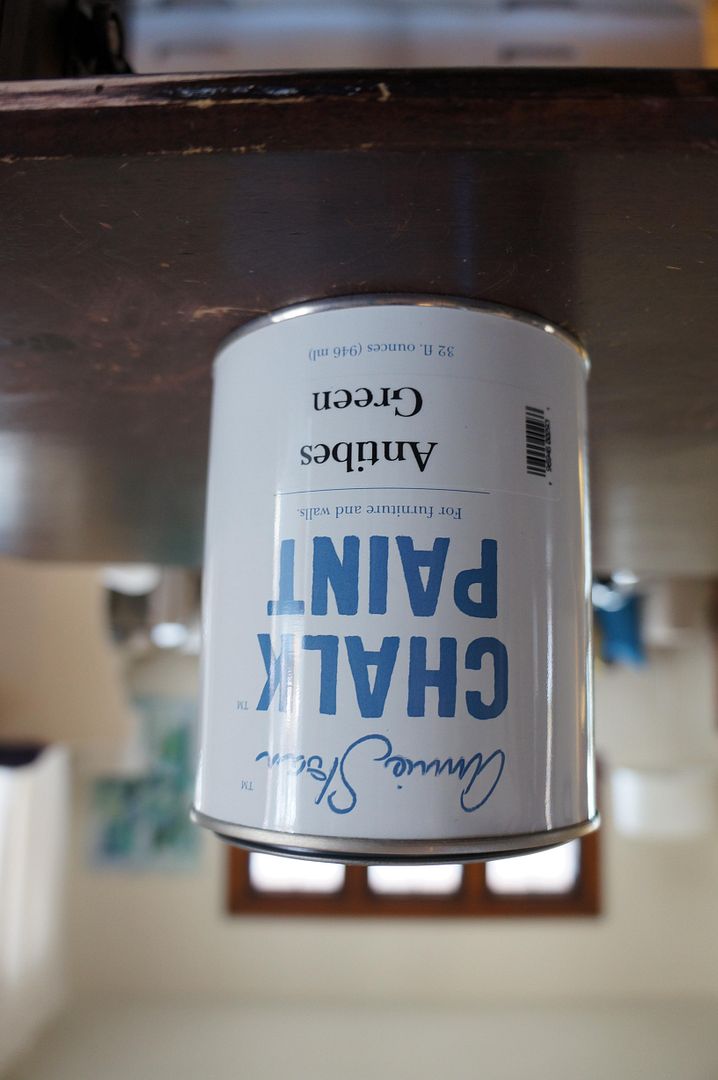 As I was thinking about what I could do to make it a little more interesting, I remembered how much I've been drawn to the dipped furniture trend, so I figured, "What the heck, let's test that out too."
Before I used Annie Sloan Chalk Paint for the first time, I was really nervous about the product, how it well it would cover, if it was worth the money and how it would hold up over the long-haul. So I did TONS of research, looking at all the reviews of the product before I finally pulled the trigger. Because of that, I thought I'd post my own little tutorial here - it's nothing that hasn't been said before, but there are a few tips and tricks I learned along the way that I think could have given me more confidence had I known them before (and saved me some money).
As a reminder, here's what we started with. (Please ignore the messy living room - particularly the hand weights and yoga mat. I had just finished a Mom's Into Fitness workout - oh yes, that's exactly what it's called and it's exactly what I am - about once a week.)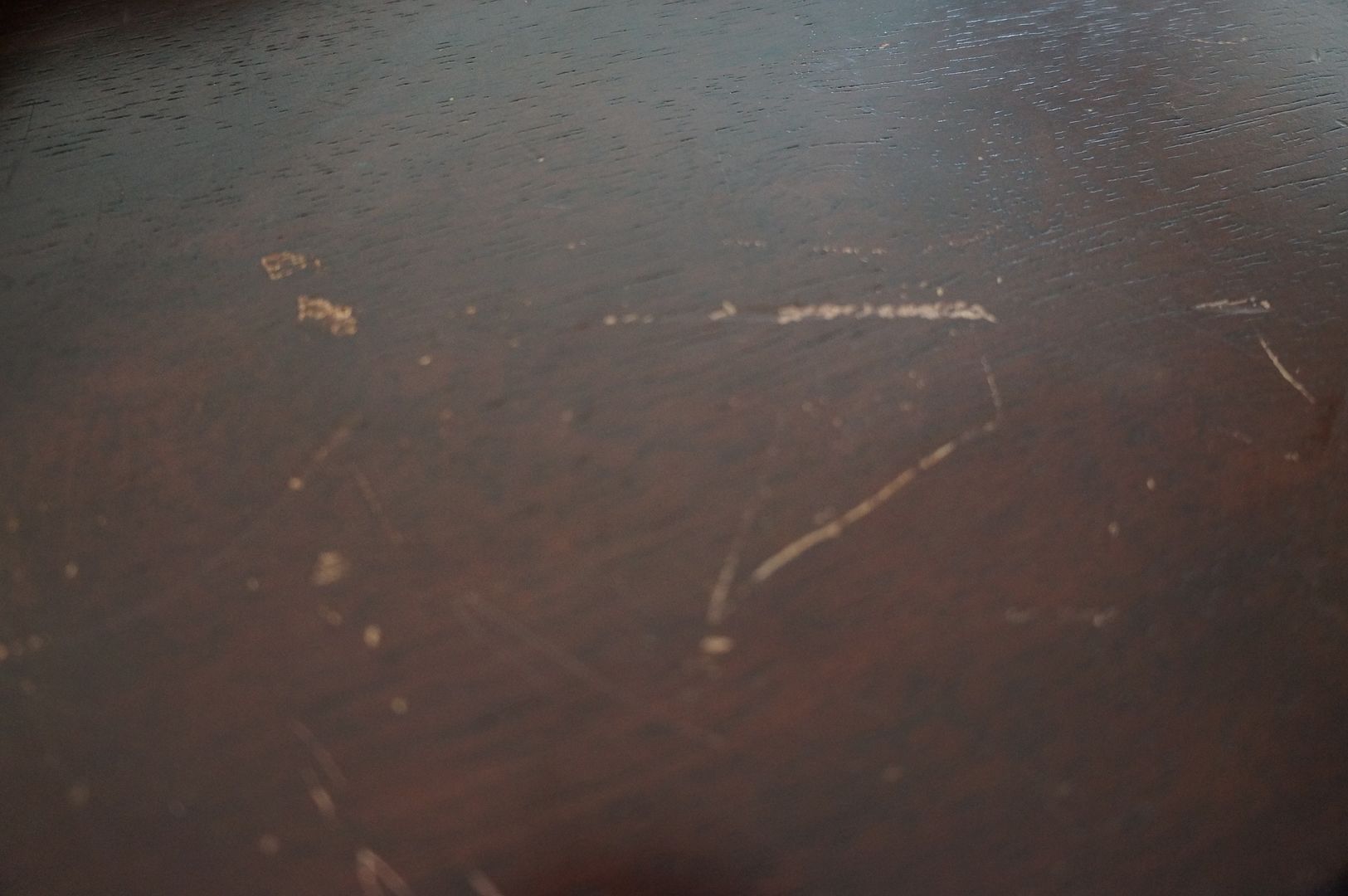 So I gave it a quick sanding, nothing too crazy, just enough to make the rough areas smooth again. The great thing about chalk paint is there is no need to sand or strip furniture. Just paint right over the existing finish - I only did a bit of "spot sanding" because some of the scratch marks were deeper and I wanted to smooth them out.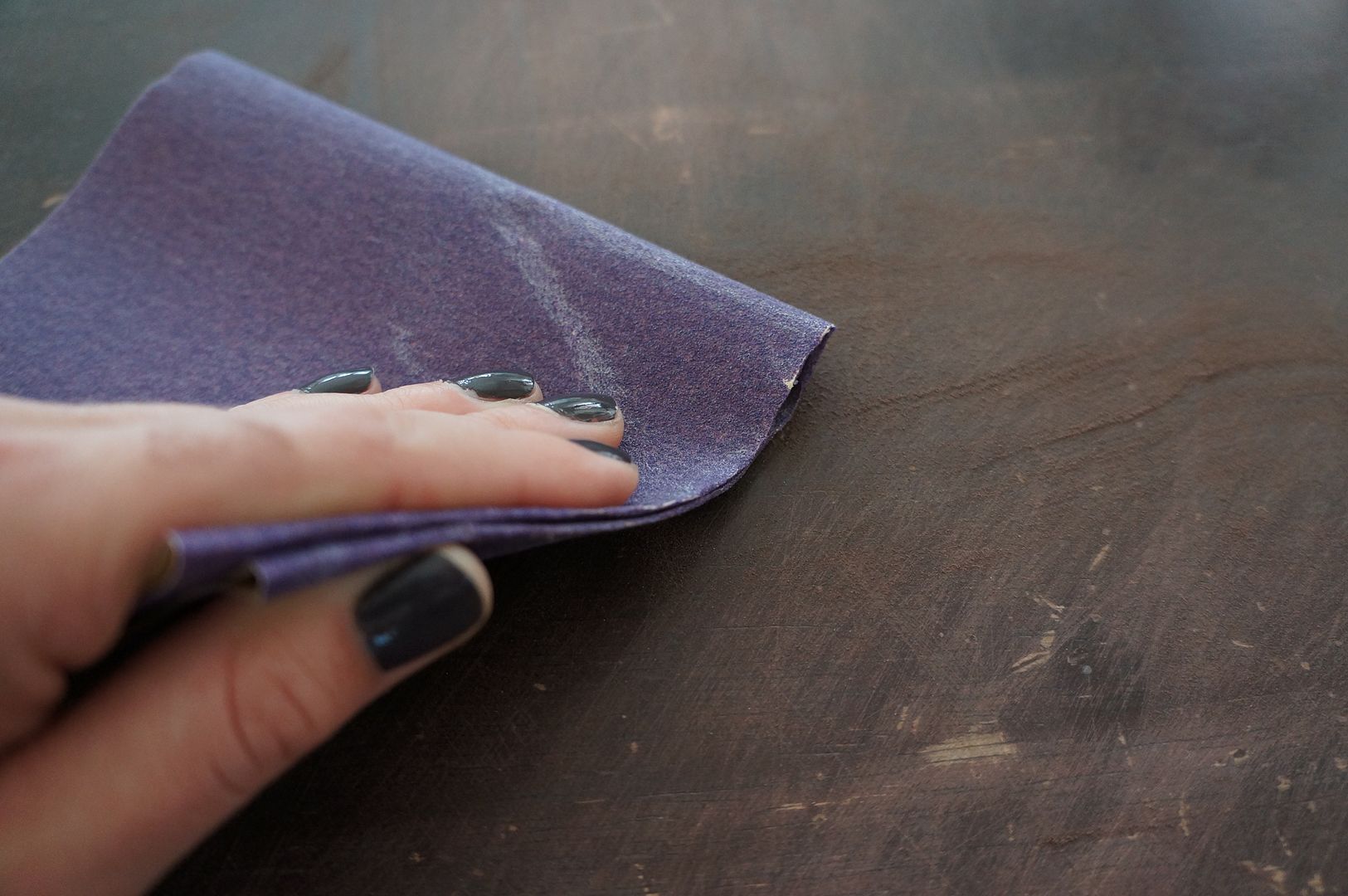 Then I wiped down the entire thing (it was a lil' dusty - dust = no good for paint) with a wet microfiber cloth (any cloth will do) and dried it with a second cloth.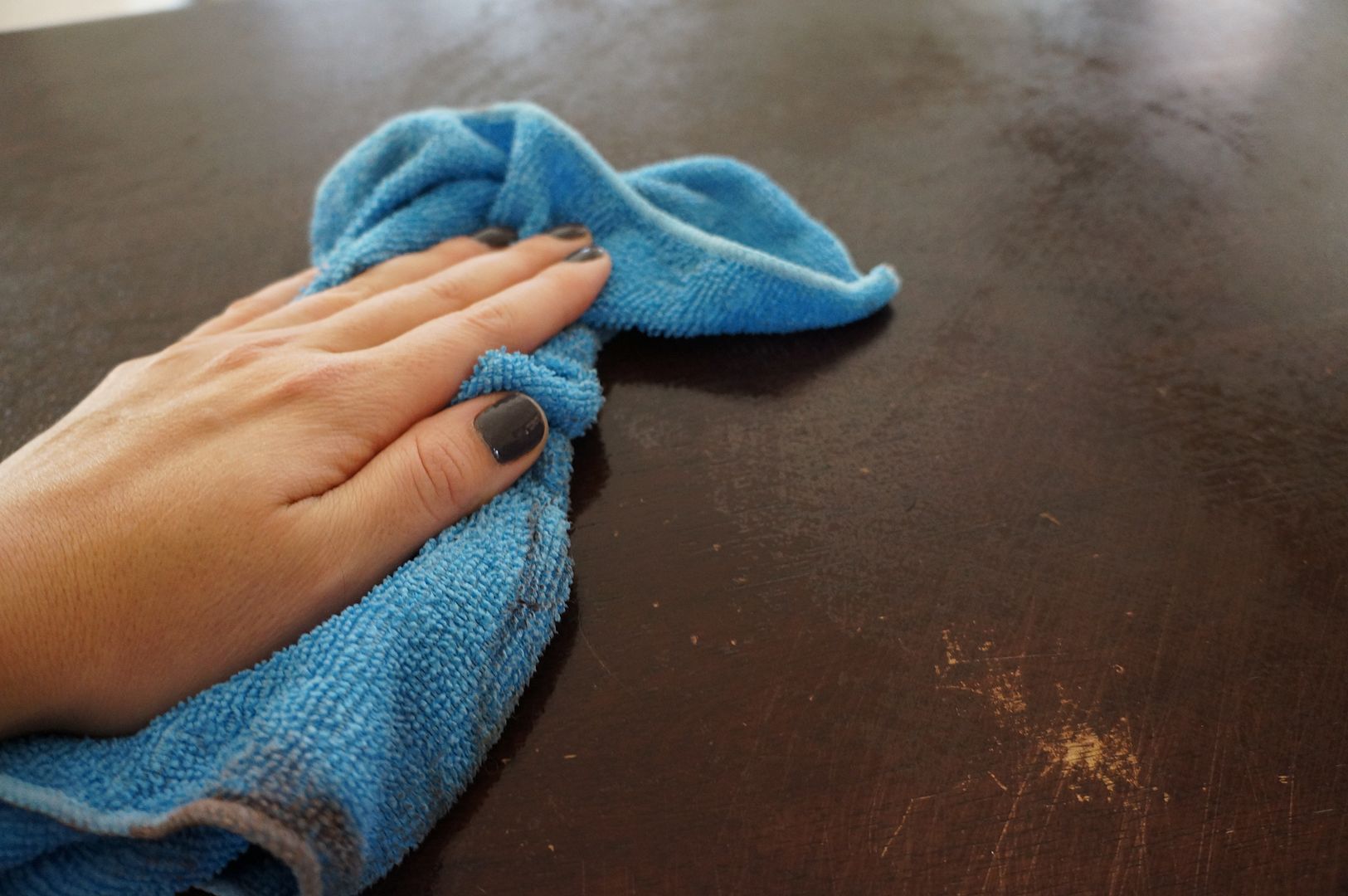 With that tiny amount of prep, I got to work painting. It took two solid coats, and a third really light coat to get full coverage, with about an hour drying time in between. Annie Sloan sells special paint brushes for their paint, but save your money and just use a regular paint brush. For any aspiring DIYer's out there, I'd recommend investing in one or two good 2" Purdy brushes - they're worth the extra four bucks; no bristles falling out or sticking together, and the edging you can get with one of these brushes when cutting a ceiling is amazing. Definitely worth the money, but definitely worth taking care of so you don't have to replace them. (My dad owned a professional painting business for a looong time - he swears by Purdy, so if you don't want my advice, take his.)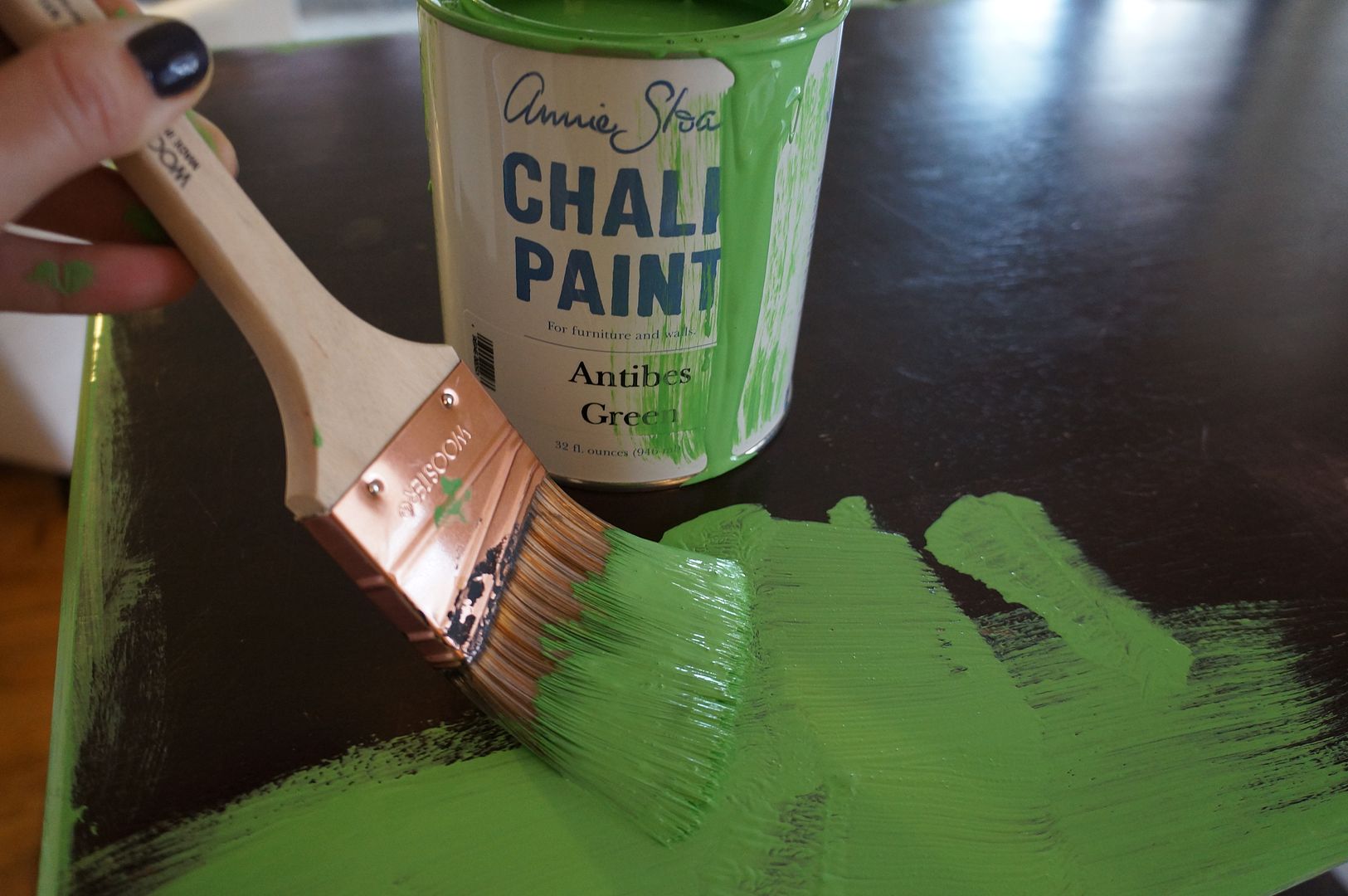 No, I'm not a lefty. But I had to take the pic with my right hand. Hence the very even paint strokes.
Here's what it looked like after the first coat:
After adding a second coat and letting that coat dry, I added the dipped legs. Pretty simple process here. I just estimated about where I wanted the "dip" to go up to (I used 9") and taped of a line with painter's tape. Just make sure you press down the edges REALLY well, so you don't get any leaks.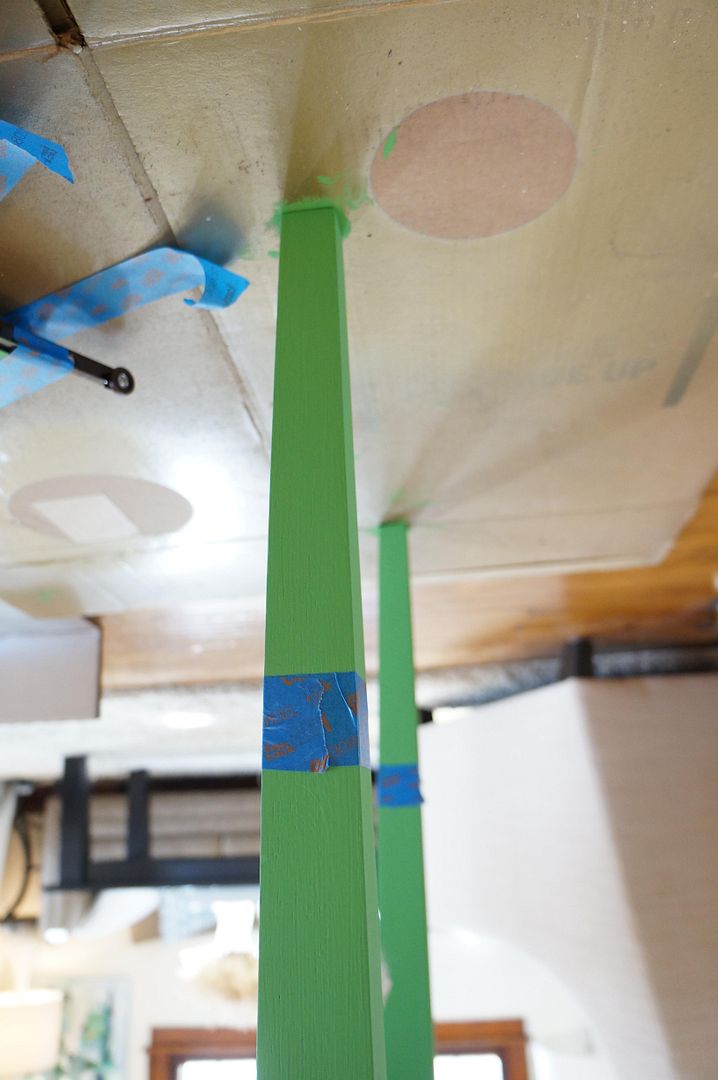 Then I took old paint we had left over from our porch makeover, Behr Plus Ultra-Pure White in High Gloss, and painted from the tape mark down - two coats.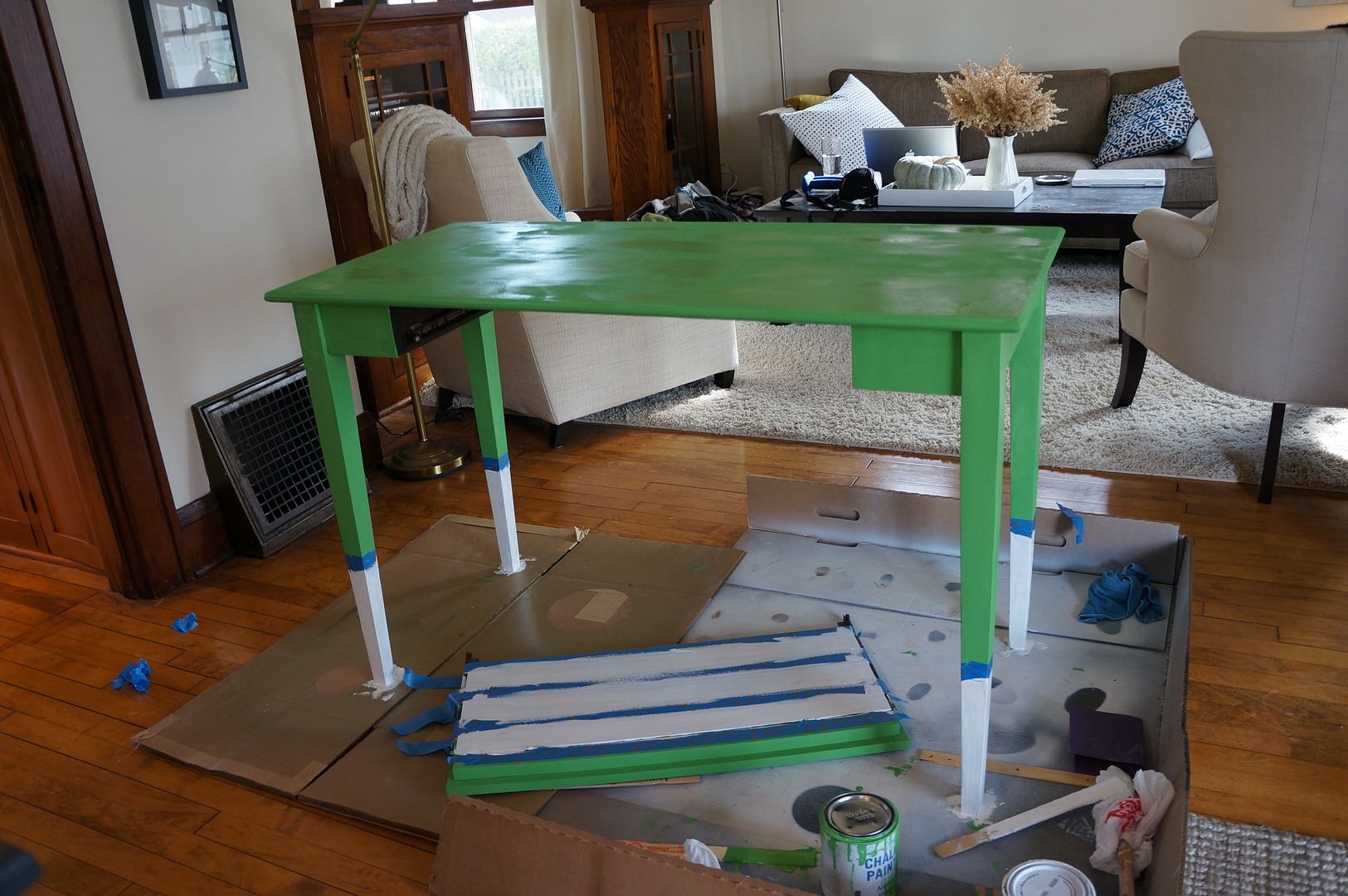 While I was at it, I decided to add some stripes on the single drawer, just for a little added fun, or "surprise!" as Mike said. So once again, I taped off where I wanted my stripes to go, these ended up being 2" wide stripes.
After letting it cure for a full 24 hours, I got to work waxing. See, when chalk paint dries, it's a mat finish that feels, well, a bit "chalky." You can leave it like this and some people like the look, but I'm a fan of the waxed look. Waxing gives it a slight sheen, deepens the color and gives it a water-resistant finish (we've had lots of cups and plants that have dripped on the card catalog over the past year, and it still looks as good as new). I had a can of Annie Sloan Clear Wax left over from the card catalog project, so I just grabbed that. (I'm working the next evening; sorry for the lighting change.)
Again, Annie Sloan sells a special brush to apply the wax, but again, I'd skip it. I just used an old white t-shirt of Mike's to apply the wax.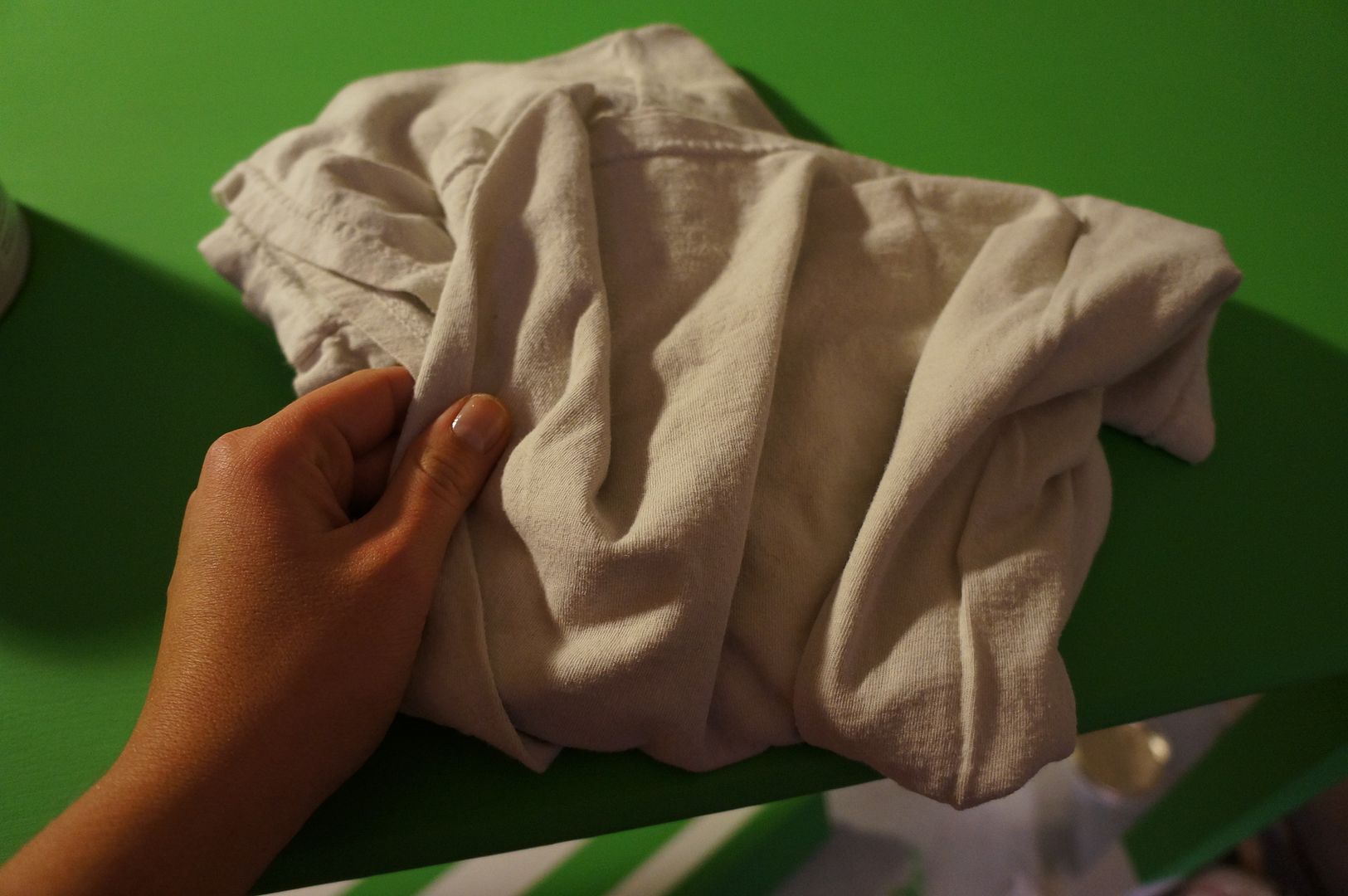 The trick here is to not put too much on. Just snag a dab of it out of the can, and working in sections, rub it into the piece.
Make sure it's all rubbed in and you're not leaving any chunks or "thick spots" before moving on to another section. You can see here what an immediate difference it makes after just one coat of wax. Shiny = waxed.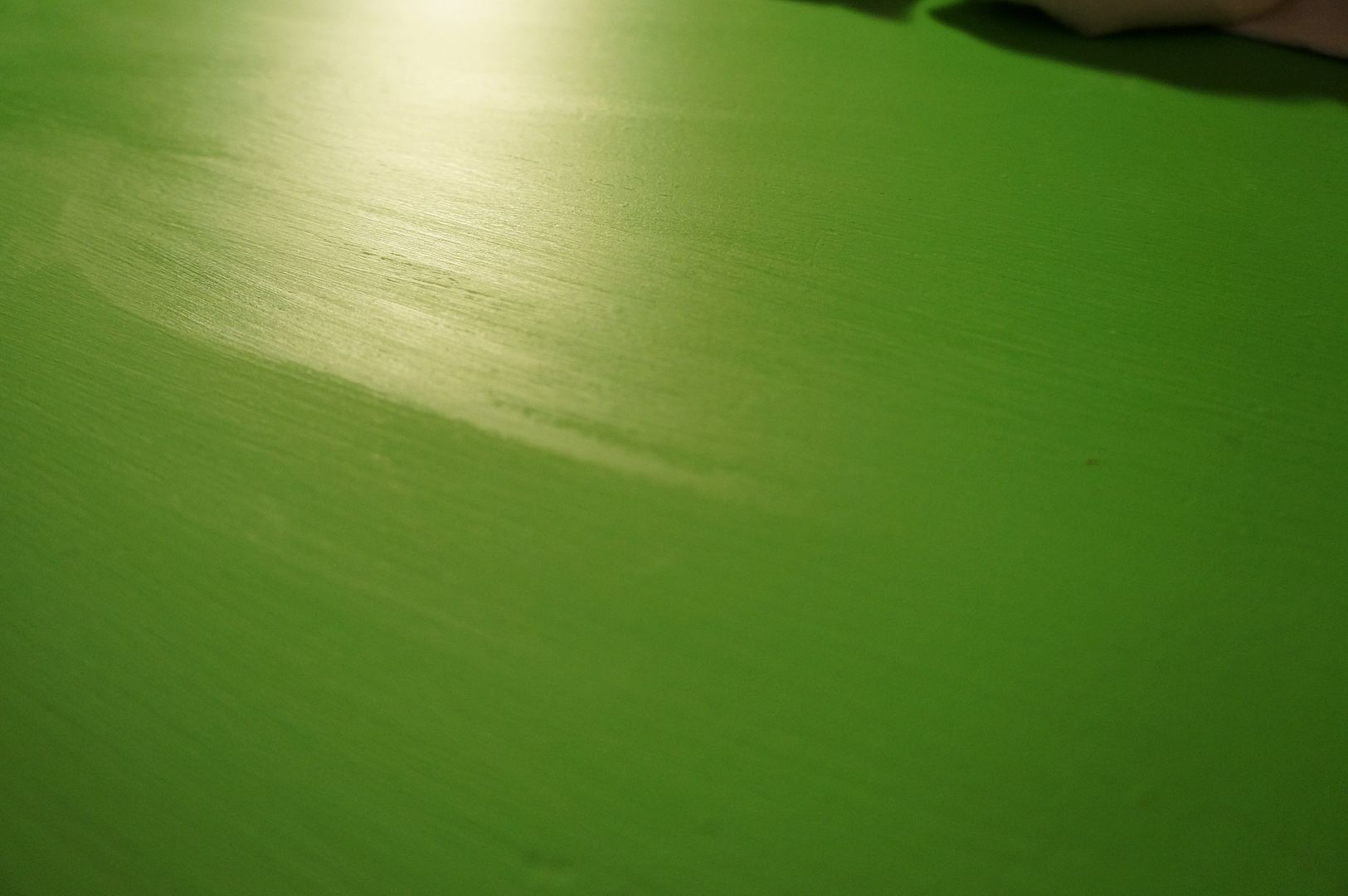 I usually do two coats all over, then a third on any high-use surfaces (ie: the top). Wait about a 1/2 hour to dry between applications. At the end, just give it a good buff and you're done! Just in case you're curious, I waxed right over the "dipped" part of the legs, with one coat of wax. The finish was already a high-gloss, so they didn't really need it, but I thought I'd test it out to see if there was any change of appearance; nada.
So that's it! I spray painted the old silver knob a high-gloss white to match the legs, screwed it back on and here she sits!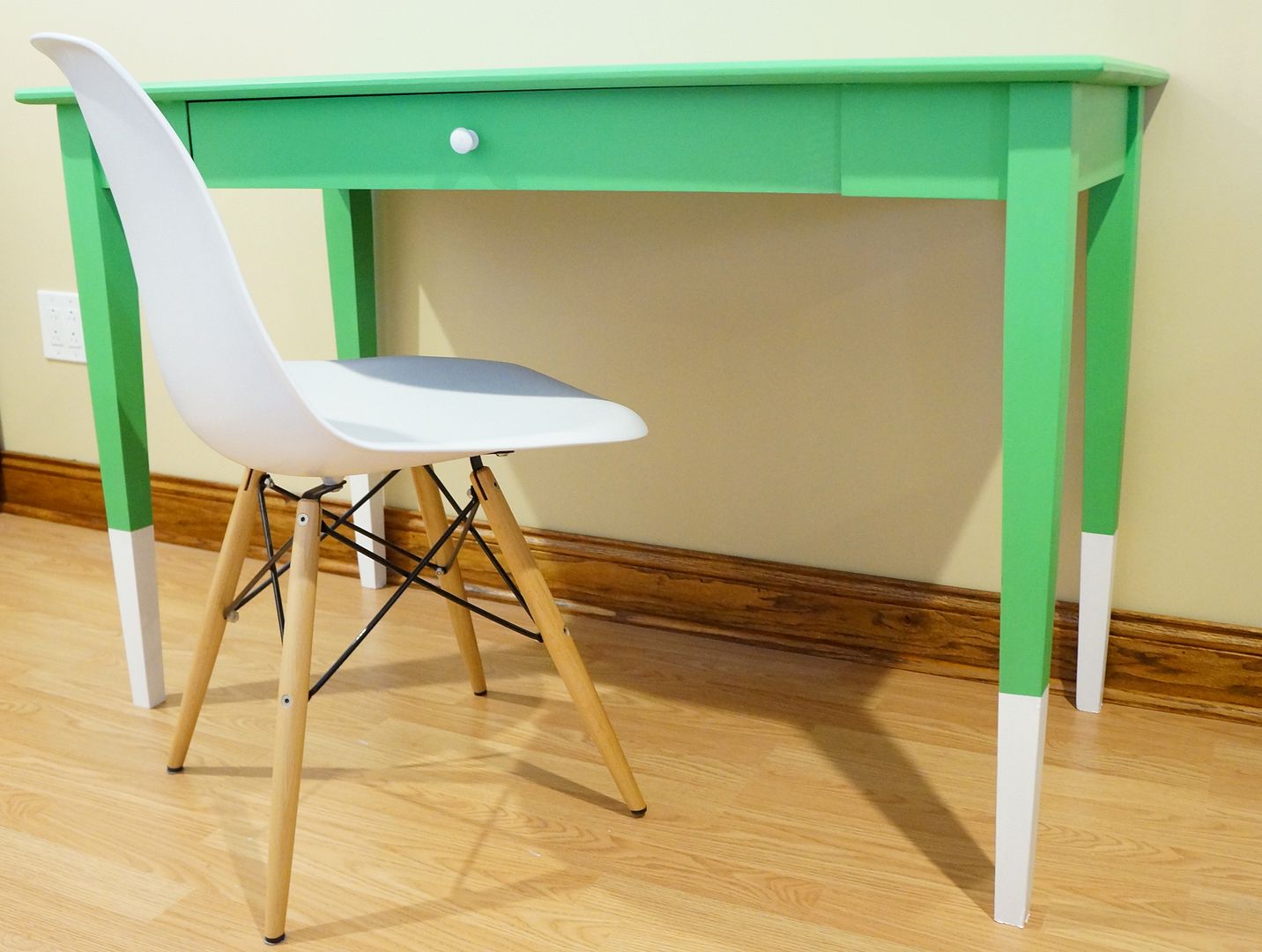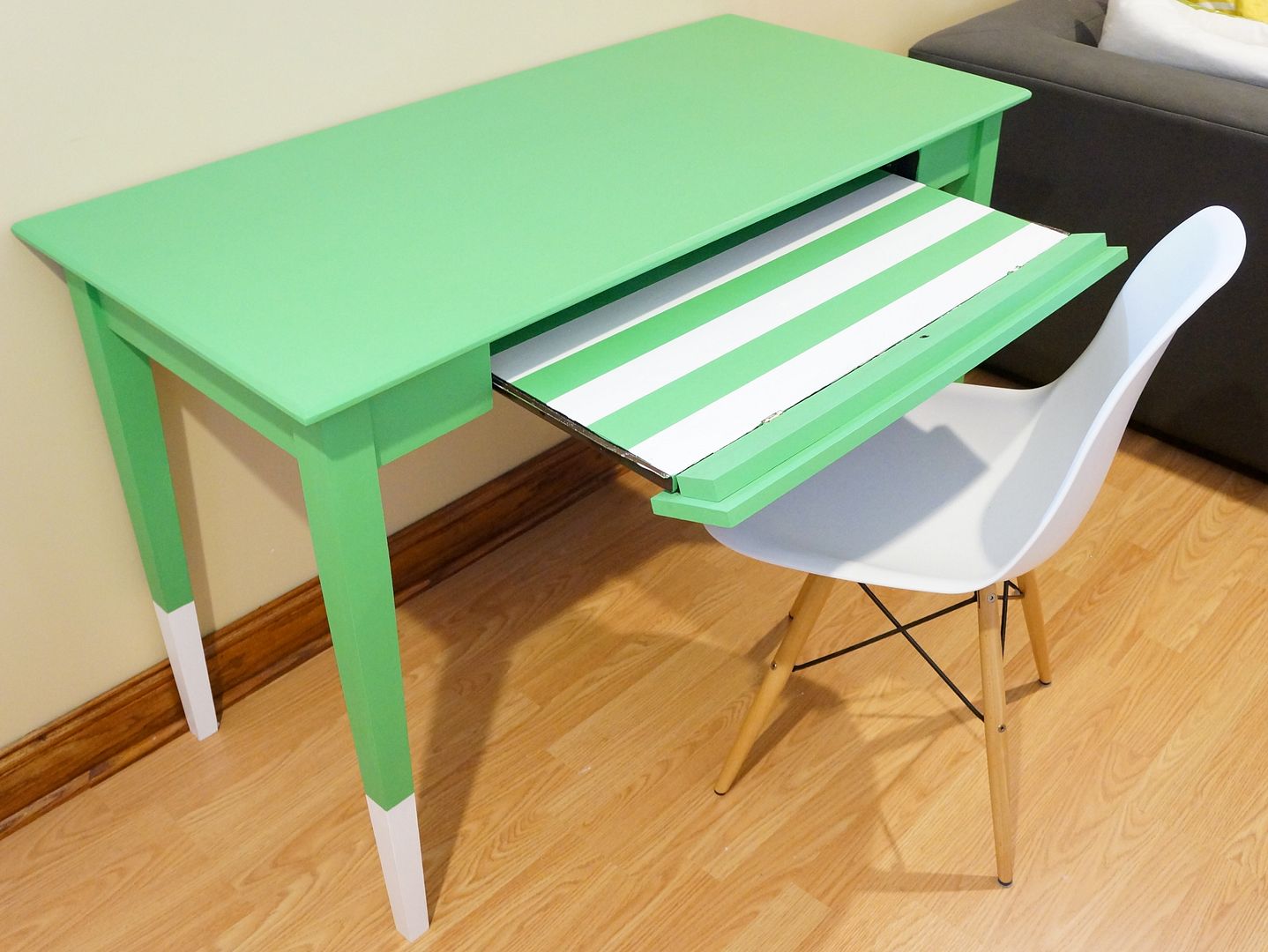 One question I've been asked by a few friends is: "Is the paint worth the money?" Yes, it's expensive, but after you start figuring the cost and time savings of not having to purchase primer, sand or strip your piece (usually you don't need to sand at all), and the crazy coverage of this stuff - one quart covers 2-6 pieces of furniture (depending on size; I used maybe an eighth of a quart on this project), way more than a quart of "regular" paint would cover, the cost point seems to be moot. So if you're an avid DIYer, or you have a pretty large project where you'll use up the entire can (ie: painting kitchen cabinets), I think it's definitely worth it. For more on the cost-savings debate, check this post from PerfectlyImperfect.
For the wax, I've only tried it with the Annie Sloan brand clear wax, but I've read that really, you can use any kind of furniture wax, such as MinWax clear and dark waxes and Johnson's Paste Wax, both of which you can usually find at your local hardware store. Here's a good tutorial on waxing if you want to learn more about it. Both of the above options are much cheaper than the name brand, but I didn't realize you could switch it out when I was working on the card catalog. I have heard if you're using some of the white colors of Chalk Paint, it has been known to turn yellow, but there's some debate out there if the user just applied too thick of a wax layer ... I think next time, I'd take the risk to save some money - but again, this wax goes pretty far, so I'd be curious to know the coverage the same amount of "off-brand" wax gets.
ps. I'm not out to be a Annie Sloan evangelist I just like to share good products when I see them. There are TONS of other benefits and tips for painting with Chalk Paint, so if you're interested in learning more, here are a few blog posts that I've found helpful:
pps. Yes, pregnant women CAN paint. I researched it forever before letting myself - if it's a water-based paint, you're good to go, low to no VOC is best, and always do it in a well-ventilated area. I had all the windows and doors open and a fan running while I completed this project. BUT, I will say, you gotta do what's best for you and if you're uncomfortable with it - don't do it!