Now that you all know we're having a boy, I thought I'd share a little more about the card we used to find out what gender our lil' beaner is. I'd always known I'd want to find out the sex of the baby, and Mike's smart enough to know not to argue with me agreed. After we talked about it a bit, we knew we didn't want to find out in the ultrasound room, but we also didn't want to make a huge "to-do" with a bunch of people. Not that there's anything wrong with either of those ways, we just wanted something private but still special for us.
So, we thought we'd have the technician write down the gender on a little card and then we'd figure out some way to have it "revealed" to us privately, be it a cupcake, balloons or whatever, just with the least possible people knowing. But before I knew it, the day had arrived and I hadn't planned anything except for a celebratory dinner at a local restaurant. I wasn't sure how we were going to make time to get the card to someone to do something special, and by that time, I'd hit my halfway mark (an accomplishment in my mind worthy of celebration in and of itself) and was just about to explode if I didn't find out ASAP. So the night before, I designed a cute little card to have as a keepsake. I'm not known for the world's best handwriting, and I don't scrapbook, so I just whipped it up on InDesign.
As I was brainstorming, I did a quick Google and Pinterest search for inspiration and to my surprise there were hardly any cards like this out there, and I wasn't crazy about the few options there were. So I just kinda shot from the hip on this. I wanted something simple and easy for the technician to understand (circle the correct one), so we didn't have any "mix-ups," yet pretty enough to display or at least keep in a memory box. As you know, we call our babe lots of things, one is B-dubs, and another common name we use is lil' Wif (a play on our last name) and if you haven't noticed on the blog, I say "lil'" A LOT - and if you knew Mike, you'd know he says it too. So the card was born: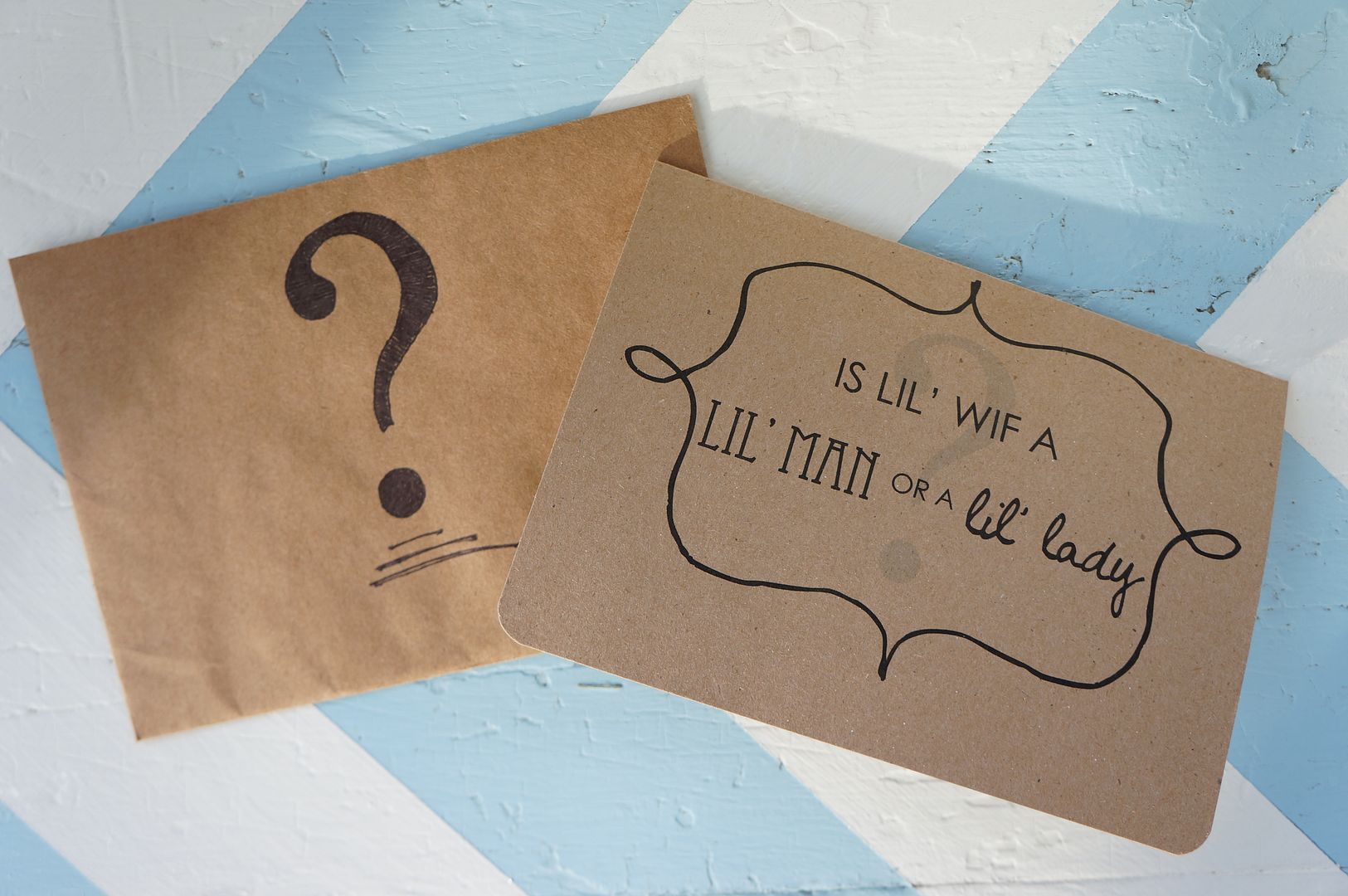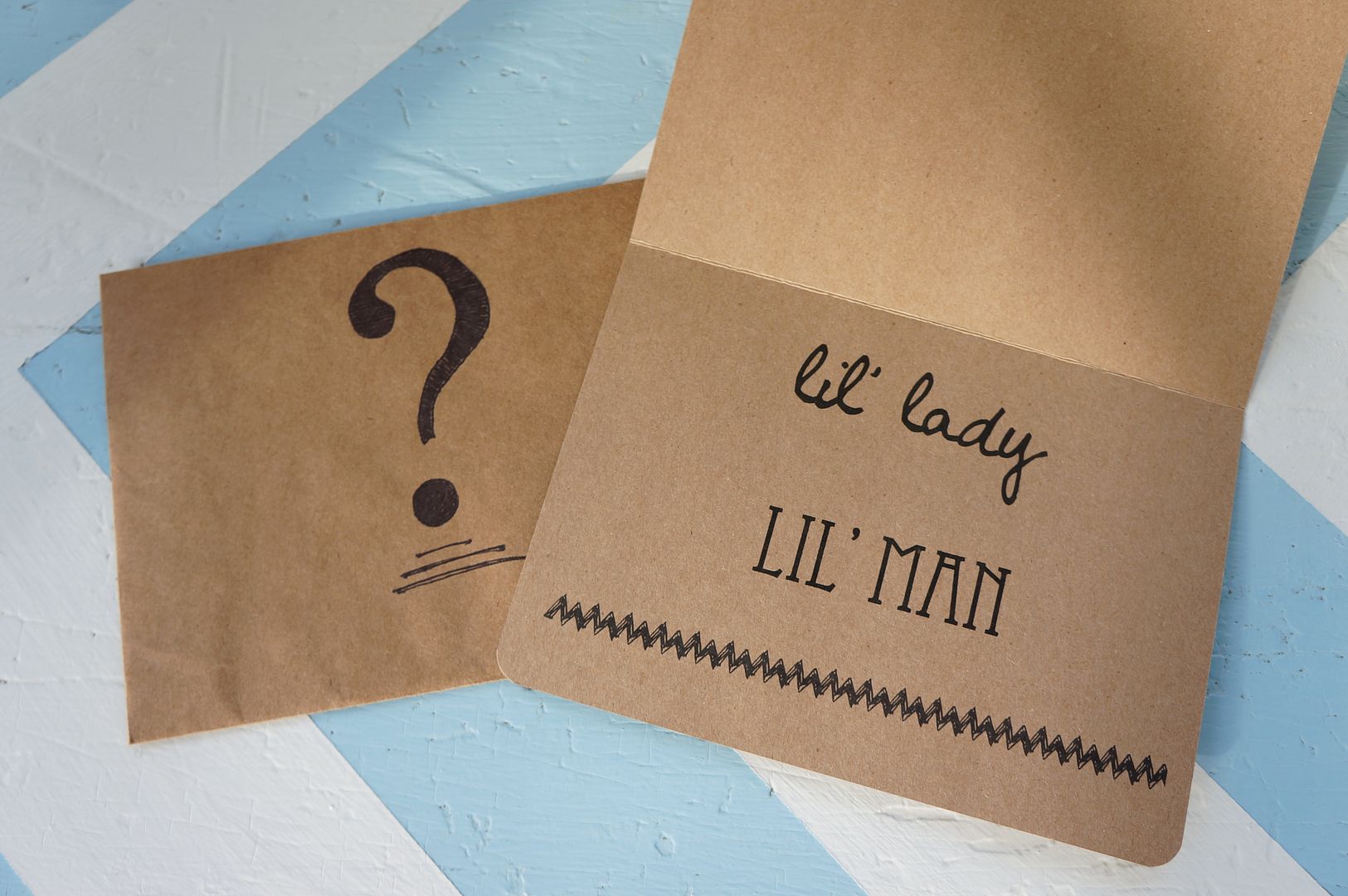 BUT, since there are hardly any options out there, I thought it might be super nice of me to share this card with the world. (I know, right?) So, I've created a more "generic" template that anyone can print out if they're expecting a lil' man or a lil' lady and would like to use it, plus it's in color! (If you're using colored paper like me instead, just print it out in black and white):
Click here to download it.
It's a 5"x7" so feel free to print it out right on a blank 5"x7" note card (that's what I did). Or you can even use an 8.5"x11" sheet of paper and just cut it down to size - whatever floats your boat. Even if you're planning a huge gender reveal bash, this card is still a cute piece to hand to your technician, then hand over to whoever is planning your partay.
Once they're done with it, you can keep it, frame it, trash it, whatevs!
Oh! And I just drew the question mark on our envelope, but in the link above, I included a print out for the front and back of a 5"x7"
envelope.