One thing I like to try and do on and off throughout each week, is to prep Mike on what I'd like in our future home. I do this so he can mentally prepare (he's an engineer, remember?), so when I demand a pool house in our next home, he won't be shocked and use the "excuse" that it came out of nowhere so I can't have it. Good idea, right? I'll let you know in a few years how that one pans out ... I figure it's at least worth a shot.
With a lot of out-of-town family and friends, combined with a love of hosting, one of the things I like to frequently drop is that I'd like to still have a room dedicated to guests in our next house. Even though our house will be chalk full of kids, I'll make all 12 of 'em sleep in the same room before I'll give up my guest room. When Mike and I were dating long distance, I was blessed to have my own room (So much so that I deemed it "my room" rather than his older brother's who lived in there for who-knows-how-many-years. Sorry Brad!) and it was awesome to have a space of my own that was comfortable and inviting. Ever since, I've been a bit of a guest room critic (don't let that scare you from inviting me over to stay - I'll keep it in my mind, promise!) and it's incredibly important to me to have a welcoming place for our guests to stay.
While the room's not huge (old house syndrome), it's mighty in functionality and it was one of the first rooms I worked on when we moved in. The closet space and dresser is actually all filled up with Mike's clothing. This is the honest truth: Mike has more clothes and shoes than me. BUT I have more scarves, and that's what's important.
As promised when I showed you the DIY chandelier makeover, the room went through a big (but fast) evolution and I actually haven't touched it in about two years - quite shocking if you knew my tendencies - Mike lives in constant fear that I'll want to change it up, so he consistently compliments it in an effort to encourage me to not change it. Mike, it's working, please continue.
When we first moved in, this is what the room looked like (seller's stuff):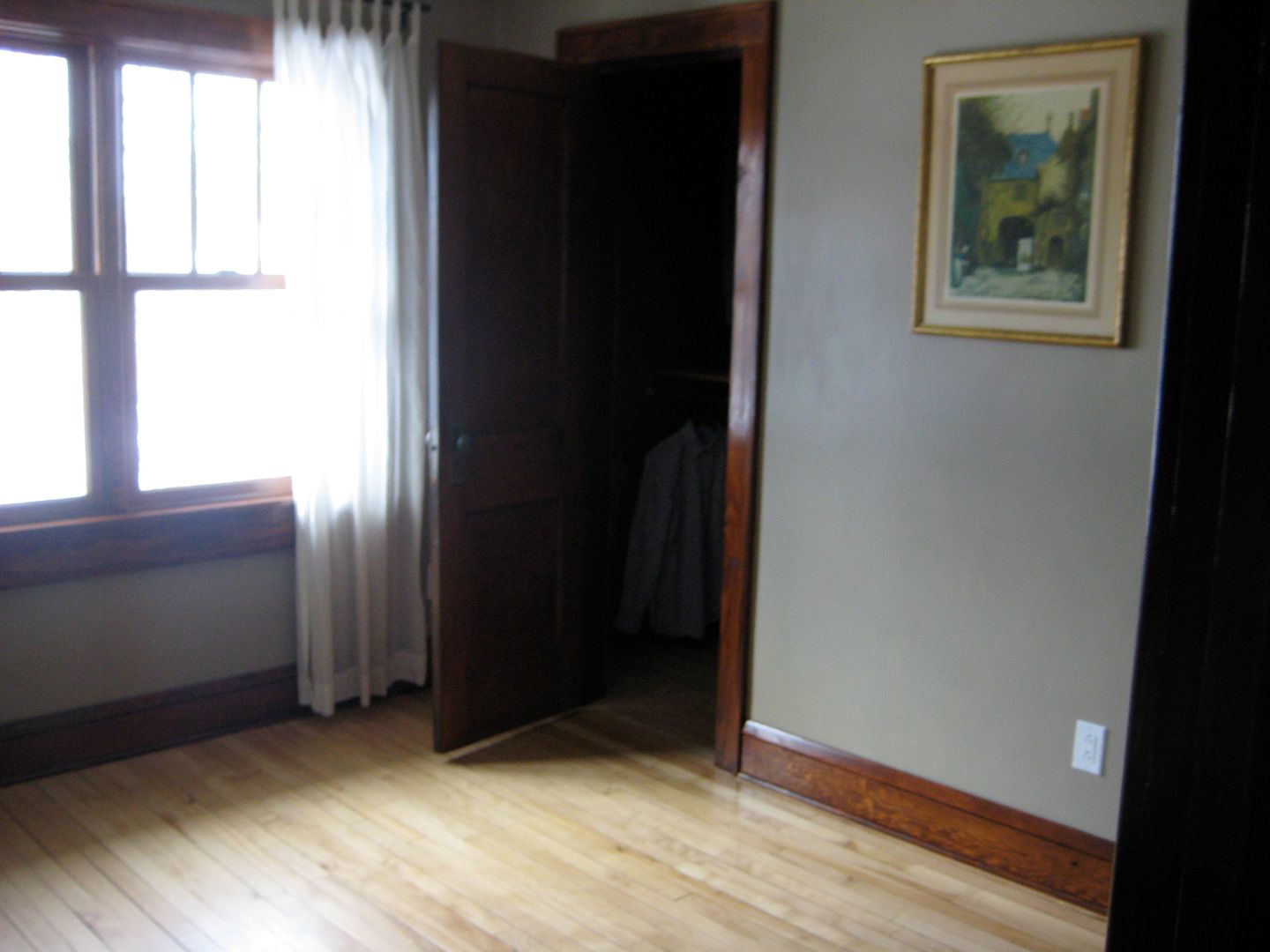 Then right when we moved in we got our stuff in there and it sat like this: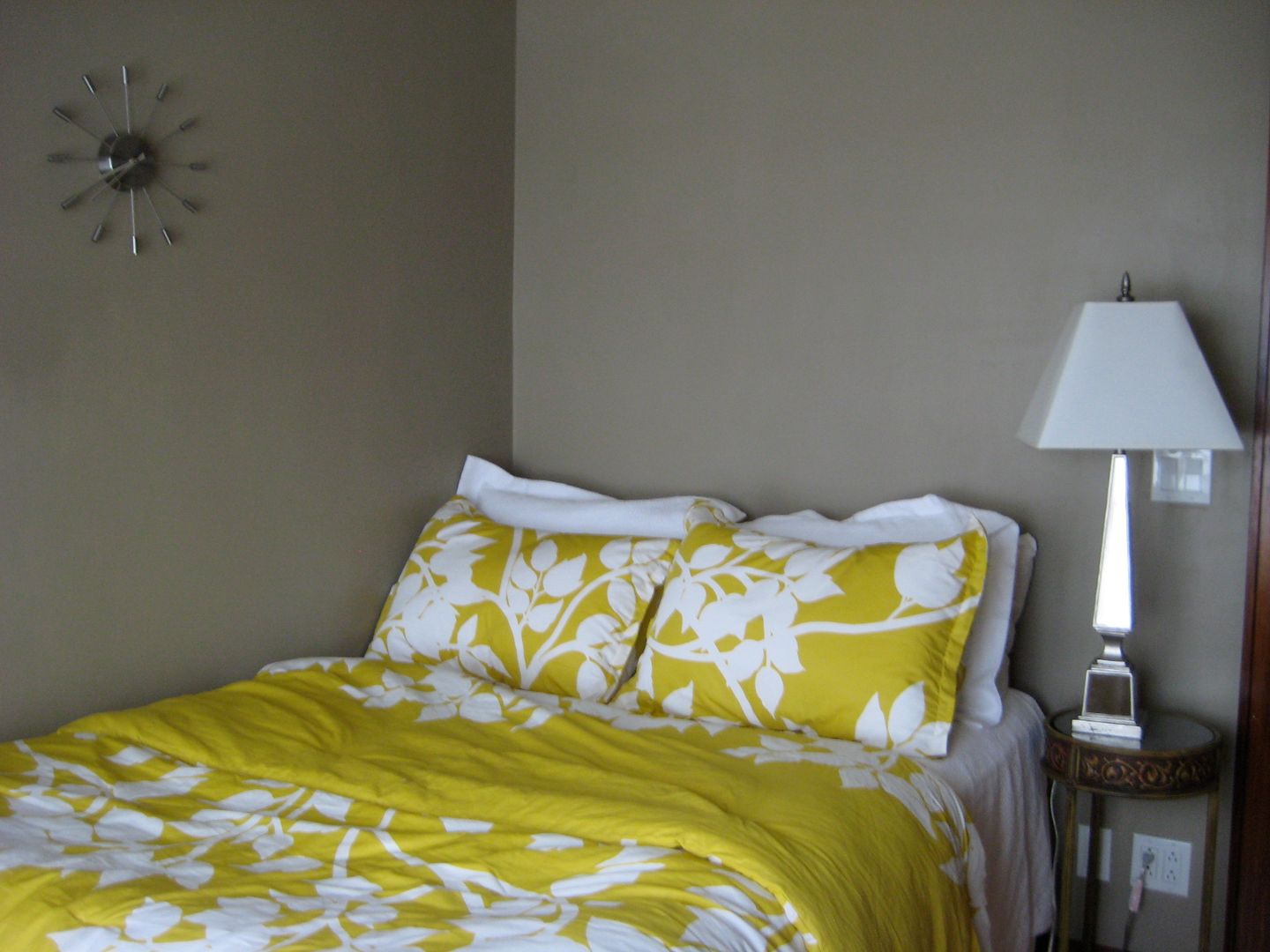 Very quickly I realized that I didn't love the yellow comforter with the color of the walls (It's much more brown/green than the gray-looking walls this pic shows). So I figured either the bedding or the wall color needed changed. Mike begged me to just change the comforter - take a wild guess why. I may or may not have let him sweat a little by looking at paint colors, but in the end, my love for the current color won out. So, I sold the comforter, moved our master bedroom bedding into the guest room and immediately I loved the look. Eventually I got the guts up to move the bed under the window as a "head board" of sorts. I always thought our guests heads would be cold if I did that, but I've asked several guests in the middle of winter if it bugged them and everyone said they hadn't even noticed. Score!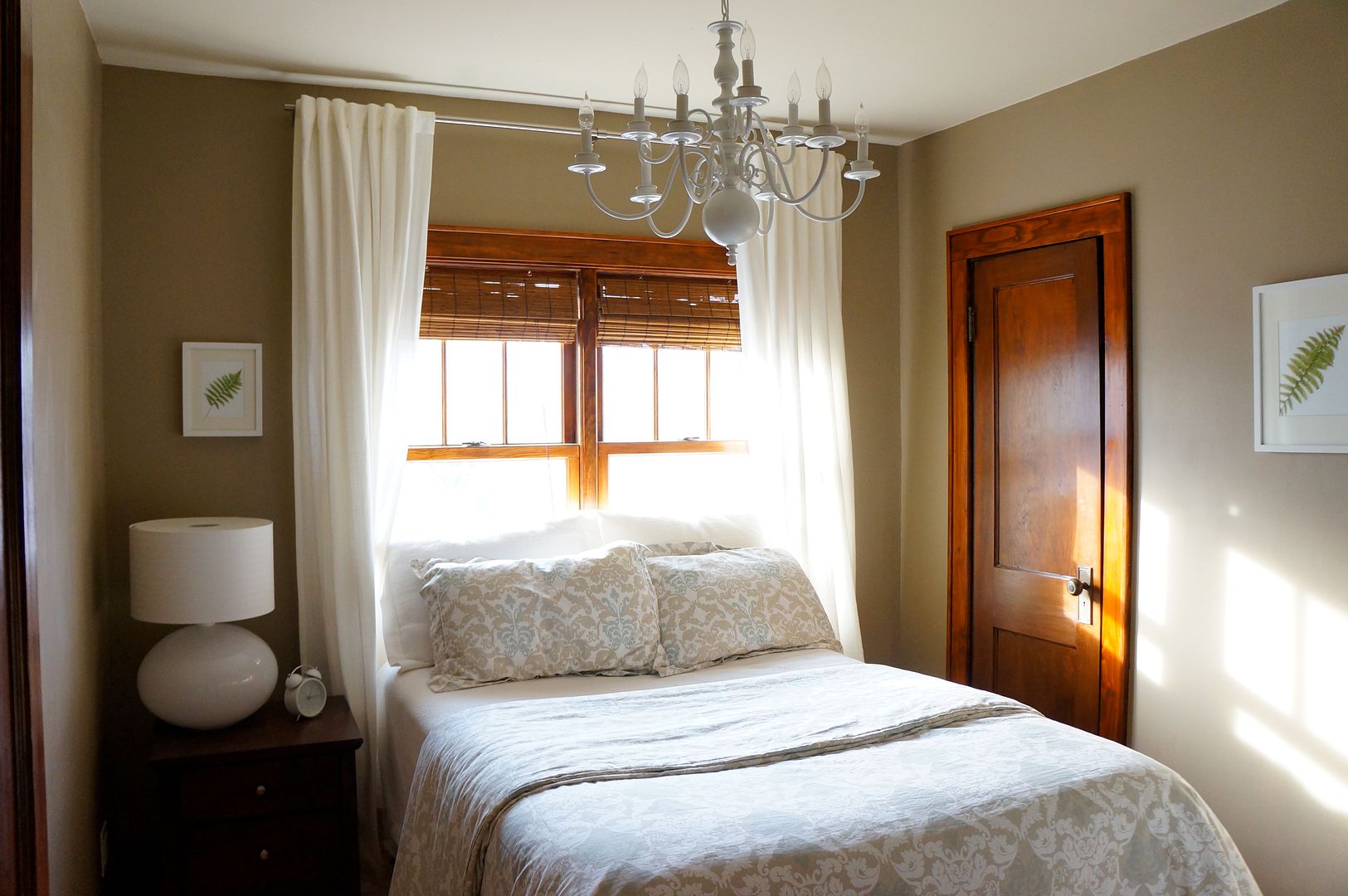 On the side table, I added a lamp and clock (two very important things in a guest room!). Inside the drawers are pens, papers and some old magazines, just in case they get bored with me and want to go read them.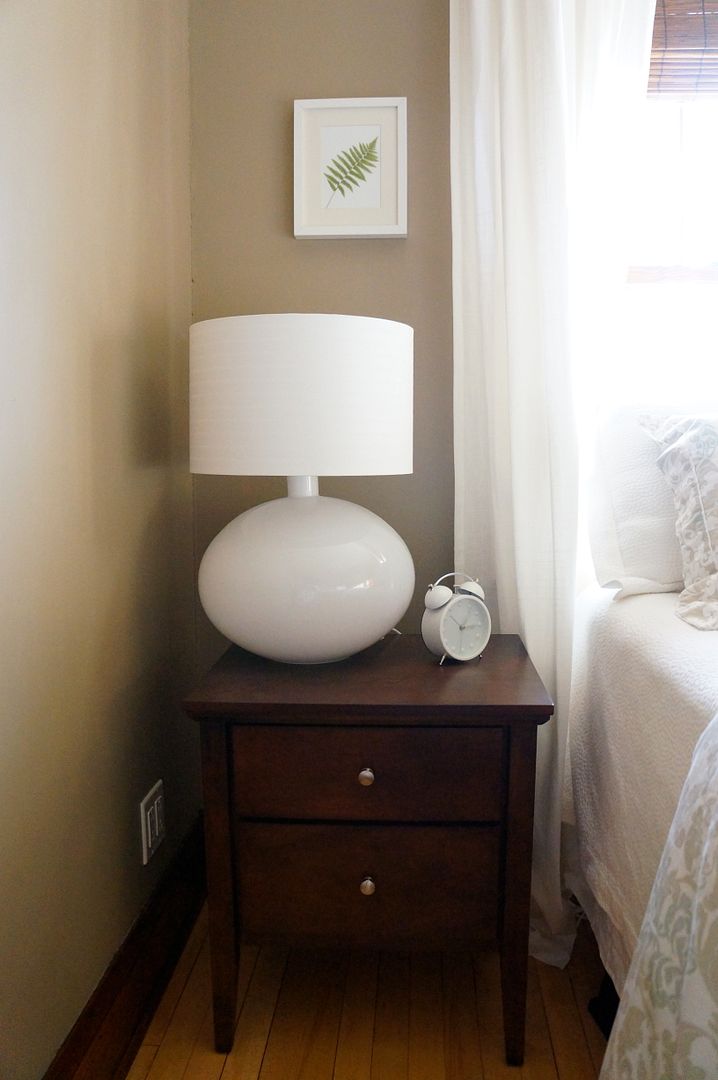 Of course, every guest room needs art (I suppose I just made that up - I don't believe there are any "official" rules...) so I did a quick little DIY project, that may just be one of my best. Using ferns from our back yard, I pressed them for a few days between heavy books, then just popped them in Ikea Ribba frames with white card stock on the back. Super simple.
The dresser is one my parents gave to me in high school and though I never appreciated it enough at the time, I LOVE it now. As I mentioned above, the dresser holds Mike's clothes, but the top is where it's really at. I have a bad habit of always forgetting something that I need when I go away for a trip. Typically it's something that's imperative to my hygiene and other's general enjoyment of life - like my toothbrush. Knowing that, I stocked that tin box up with anything a guest could need - new toothbrushes, toothpaste, hairspray, hair ties, bobbies, feminine products (in their own little opaque bag - don't worry boys - I'm looking out for you!), Q-tips, tissues and well, there's probably more, but I didn't get a pic and I don't want to run upstairs. Pregnant, remember? It's okay if you forgot, I'll continue to remind you.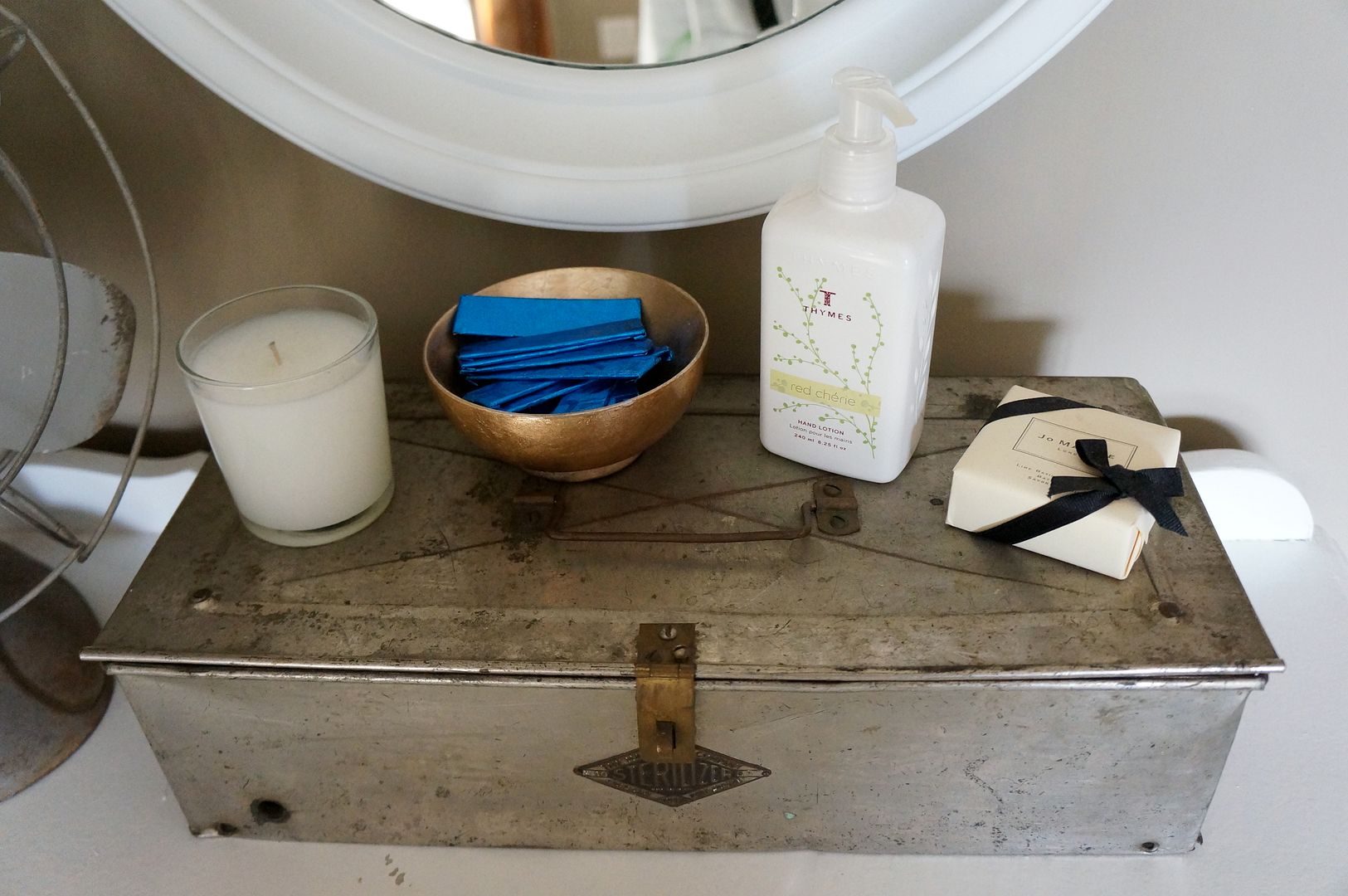 And, the crown jewel of the room - the mirror! This one's huge folks - if you have a guest room - put a mirror in it, especially if you have a shared bathroom! Girls can take a long time to get ready and they need a mirror while doing so. A mirror frees up bathroom space and makes the guest feel less stressed because they're not holding anyone up. Plus, even if you are able to give a bathroom entirely over to the guests, a mirror allows a couple to split up to do their thang instead of standing one in front of the other and trying to rubber neck around each other - you know what I'm talking about. Our mirror was one we received off our registry from Target, but it was originally black. Nothing a can of spray paint couldn't fix.
Oh! And one thing I failed to get a pic of, but is another important feature, are a few hooks behind the door. That's where we keep the guest's towels and washcloths and also serves as a place for guest to hang coats or clothing that they don't want wrinkled. That way, I don't have to remember to pull out towels each time we have guests (I keep two in there at all times - towels, not guests) and it's a no brainier for where guests should put their towel when they're done. Don't you hate it when all the towel racks in a bathroom are full and you have no idea where to hang your towel? Come to my place. I shall solve your problem.
So that's it! That's the guest room in all it's glory. Eventually I'd like to add a luggage rack in here so guests don't have to bend over to reach their suitcases, but I haven't found a cool looking one yet, only the hotel-looking ones, yick. And I'd also like to jazz up that side table with some sort of DIY love, but I haven't decided exactly what yet. Decisions, decisions.
What are some things you appreciate in a guest room?