A few days ago, I was running down the stairs to my basement and I realized that I never showed you all my DIY Subway Art. I created a huge piece of art for our basement and had Mikey hang it right at the bottom of the stairs on a big empty wall. I'm sure you all have seen the Subway Art - it's been pretty popular over the last couple of years. If not, here are a few examples:
For a while there, DIY's were flying all over blog-land, making knocking one of these off look terribly easy. At the time, I was still a pretty big DIY novice; this project was really one of my first forays into a full-blown DIY "craft." And thank goodness it was - it really was just as easy as it looked, boosting my morale and giving me confidence to tackle bigger and better things - like DIY abstract art and dying curtains (yep, done both those things, and both are waaaay harder than they look). Here's how my version turned out (photographed on the porch, not the basement for the lighting - you are so very welcome):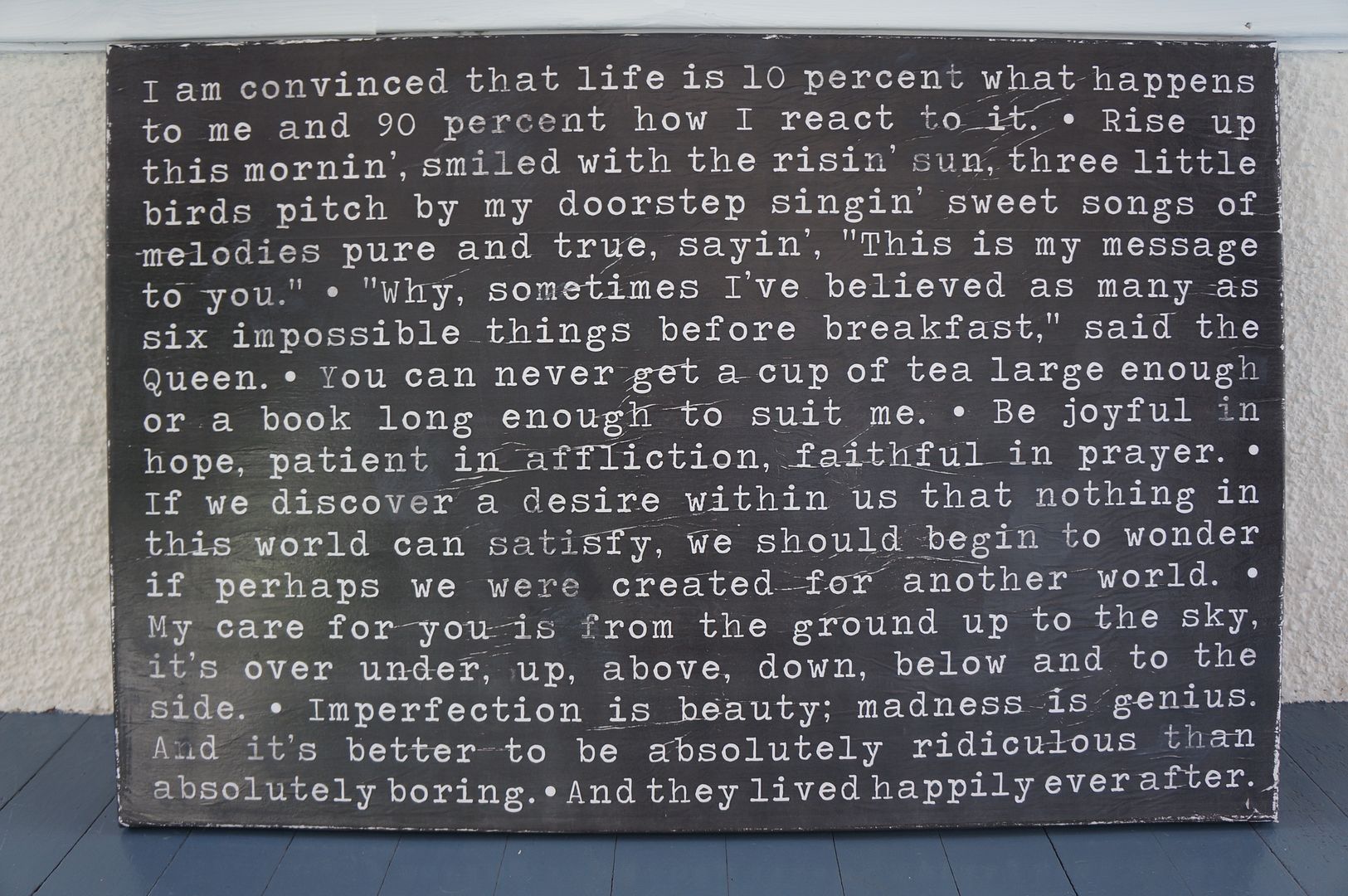 For some reason, there are some yellowish-spots, but those are not there in real life, promise! Still figuring out my new camera... Anyway, I wasn't blogging at the time, so I don't have step-by-step photos for you, but I'll tell you what I know. First off, I pretty closely followed this tutorial from Gardens Two Burgers, although as usual I deviated from it here and there a bit to make it work for my needs. Traditionally subway art uses city names or other locations for the design, but at the time, I didn't really have any cool places that Mike and I had been to together and I didn't want a big piece of art that read: "Ames, Minneapolis, Des Moines and St. Paul" (la la la laaaame), so I turned it into a quote board of sorts, filling it with all my favorite ones. Among them: the song that Mike sang to me when he proposed (yes, he sang it a capella to me and it was just like a chick flick in real life), a favorite quote from Alice and Wonderland about accomplishing impossible things, my mom's favorite quote of all time (the first one) I swear I heard that once a week growing up, a couple quotes from C.S. Lewis, and just to balance him out, one from Marilyn Monroe for good measure.
Once I decided on what I wanted it to say, I got to work. As I mentioned above, I closely followed the directions from the above tutorial, but I used InDesign. While I won't re-create the full tutorial here, I'll list a few tips that I found helpful and a couple ways that I deviated from the original.
1. If you can, get your canvas from Michael's - and use a coupon. Don't pay more than 50 percent of the price silly rabbit!
2. Most of the tutorials out there have you going through a complicated process to create a shading effect, modifying colors, weights, fills etc. I say skip all that. No matter what program you're using, you just need a black background with white text. I'll tell you why in the next step.
3. The previous tutorial mentions using Staples for the printing. For some reason, the Staples around here were not as cheap. So we took ours to FedEx Office and if I remember correctly, it was a little over four bucks. Now here's why you don't need to mess with all that shading stuff on the computadora - when you're getting low-budget printing on a black and white printer, the ink they are using isn't as high quality as if you were to print using a color printer (yes, color printers can be used for printing just black and white - usually it's a much more solid and saturated black). With a cheapo black and white printer, the color will come out faded and a bit spotty already - giving it the same affect all that electronic shading would do. For me, it was perfect, and I didn't have to waste time playing with all those effects to get the look I wanted.
4. For application (Mod Podge), just check out the tutorial I linked to. All I gots to say is this is the perfect project for those of us who are not perfectionists! The messier and more wrinkly the better! For distressing, I used just one grit of sandpaper to spot sand, and some black and white craft paint - painting and wiping it away just like it's shown in the tutorial. Here are a few close up shots of the distressing job: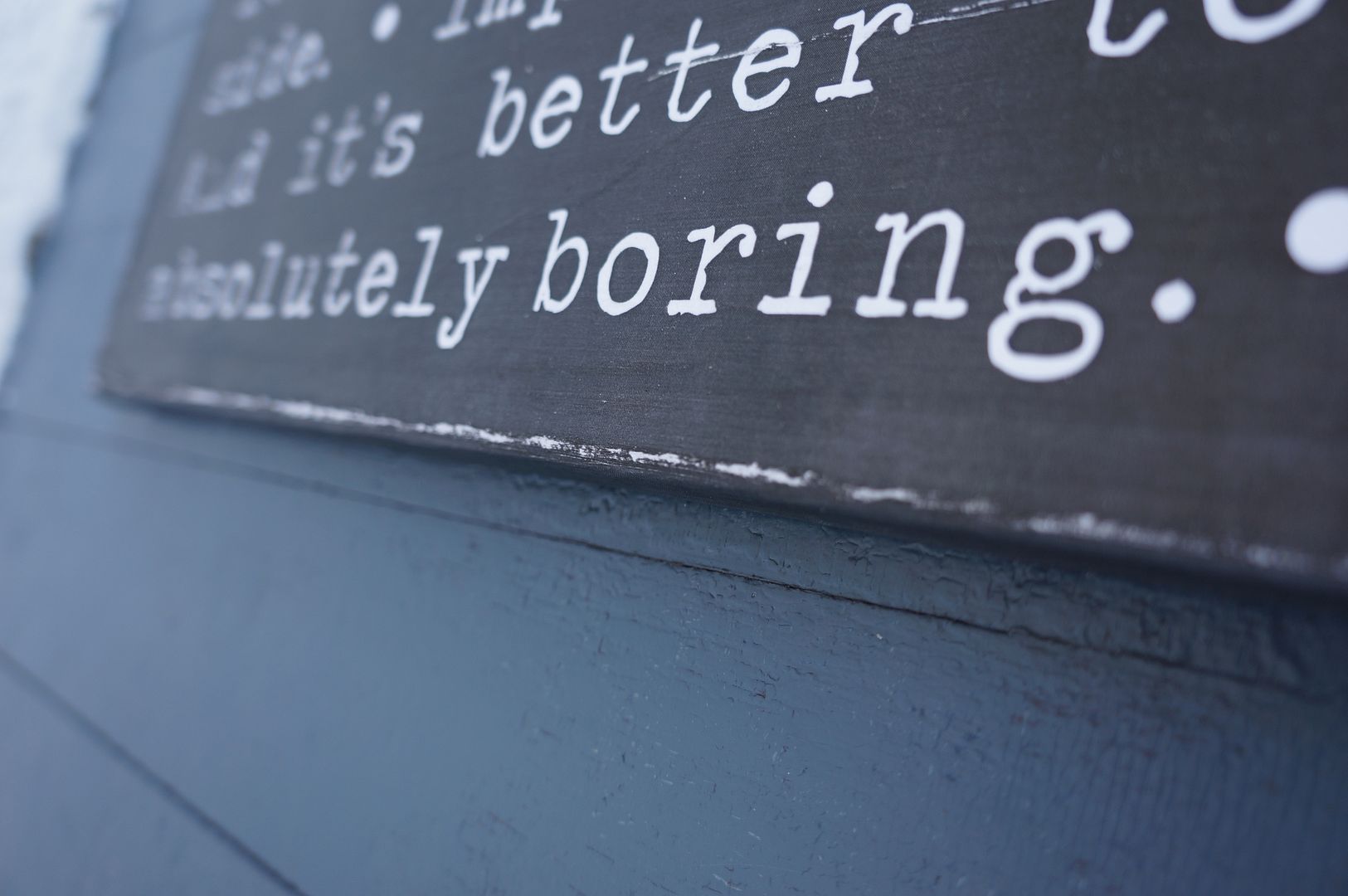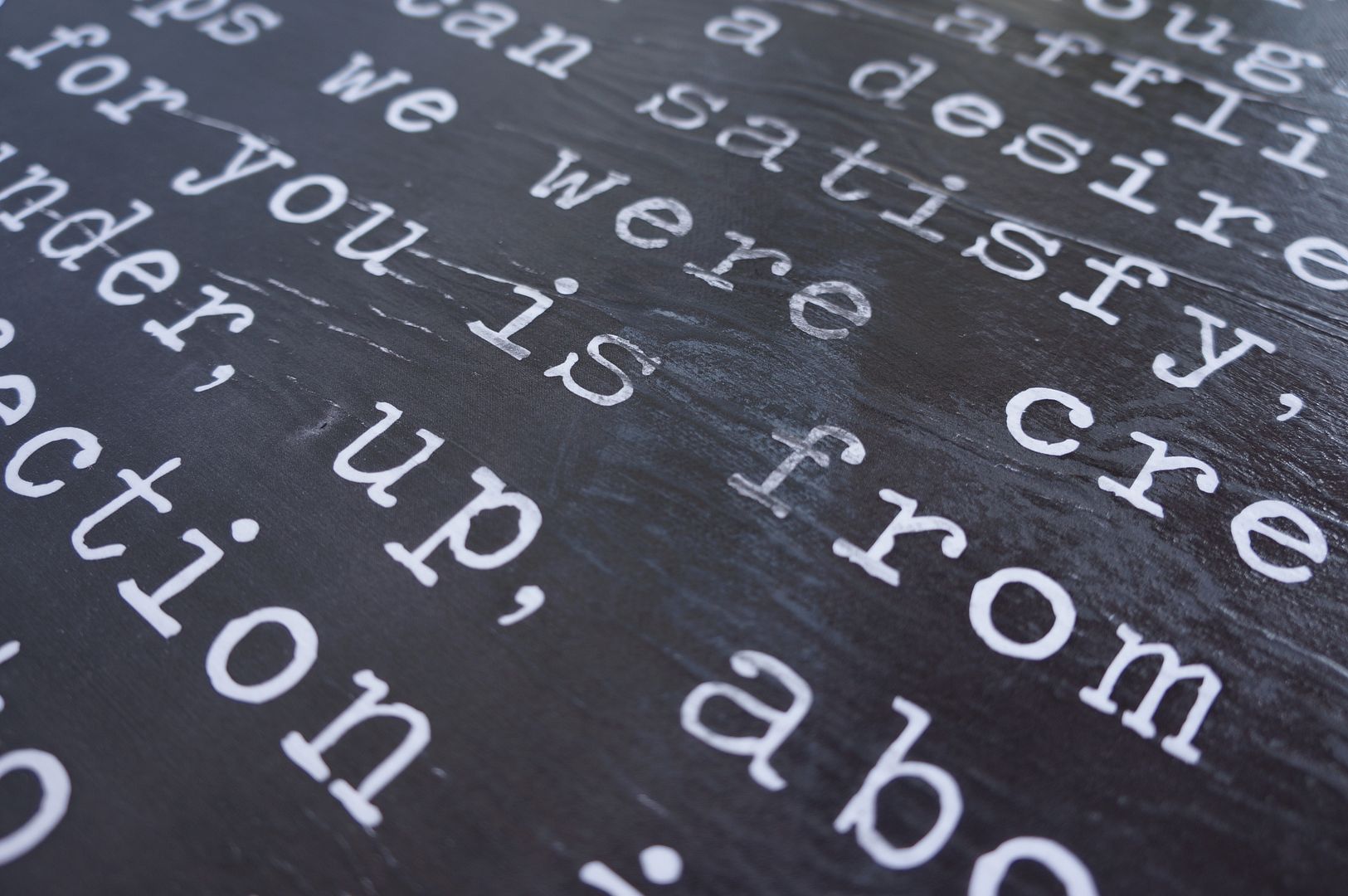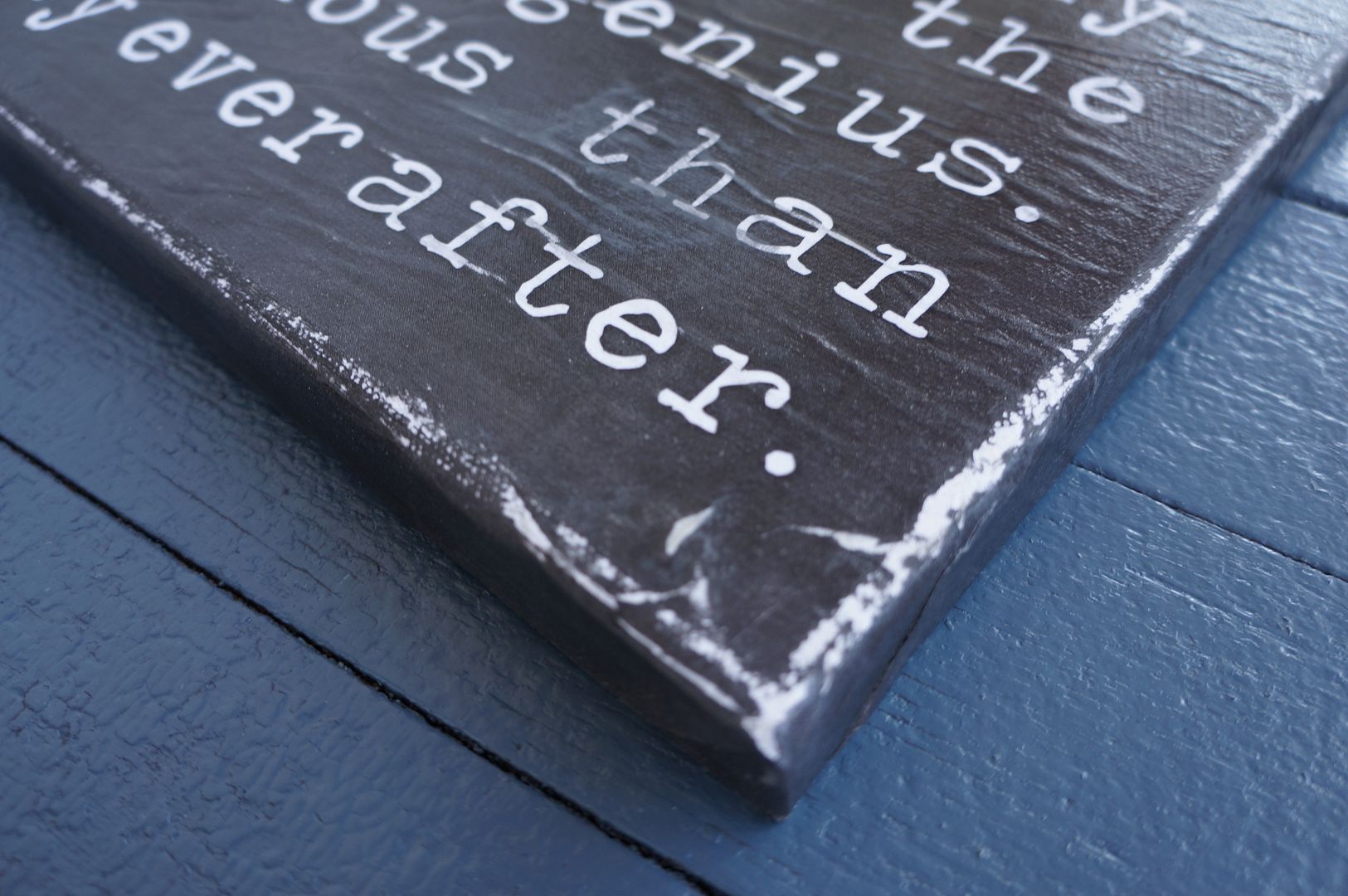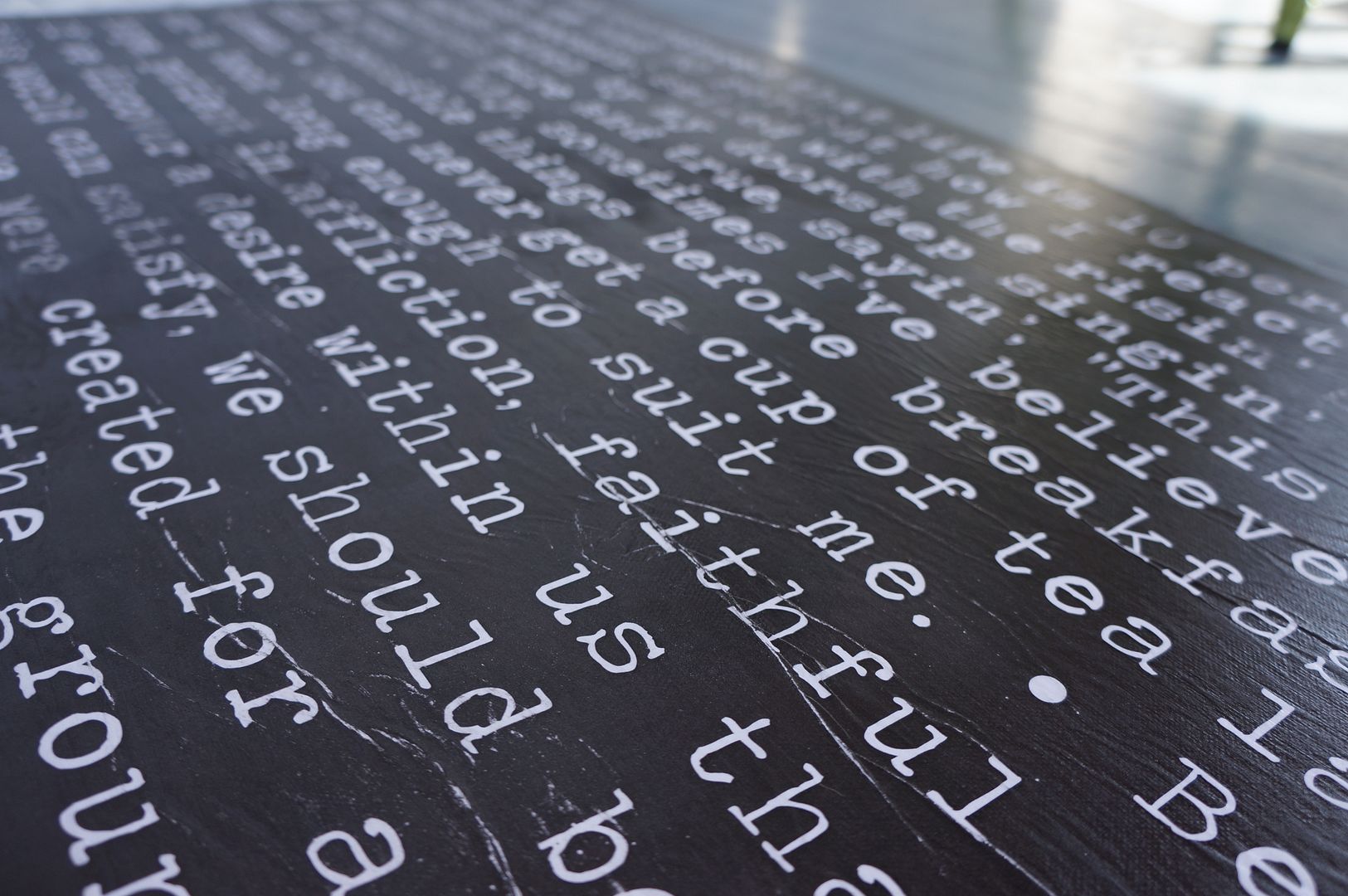 And that's about it! It really was an incredibly simple and easy project and I love how versatile it is. You could make it in any size, and who says you even need to use it for text? I could see photos distressed to look vintage, pictures of animals for a kid's room, and I even helped a friend last summer do one of these that has her wedding vows on it.
If you're a crafting newbie - this is a good project to start on and it's a cheap, easy way to fill up a ton of space!