I've briefly mentioned before how difficult it was for me to decide on curtains for the baby's room. I knew I wanted a bright, kelly green color, but couldn't find a fabric I liked that had a cool yet masculine print on it and was in my price range. So pretty quickly I hopped off the fabric websites and began looking for ideas to DIY what I was looking for. At first, I wasn't sure if I wanted ALL green curtains or not - the room for the nursery is tiny and has two huge windows in it - meaning we'd need four large curtain panels and I wasn't sure if such large saturated panels of color would overwhelm the room or not. So I started small with color. Enter these ribbon trimmed curtains:
As you can probably tell from the fact that I've only photographed one curtain panel and it's hanging in my dining room - these are not the curtains we ended up going with. When I hung this "tester" curtain up, we both quickly decided it was too "blah" with the white walls and white fabric. We needed MORE COLOR - it's a kids room after all!
So, while I'm thankful I only completed one of these before committing all the way, it took us back to square one for curtains in the nursery, hence this meltdown of yore. As of now, this curtain has been reused in a different spot in the house and the ribbon has been ripped off and stowed away for a later project. But overall, I did love the look and I have to admit, the curtain turned out exactly how I imagined it, it just didn't look as good in the room as I had imagined it. So, I snapped a few pics of it before I took it apart to share with all of you. This is definitely something I'd try again if I was looking for a quick update to some drab curtains or just wanted to add in a bit of color to a room.
With that long-winded preamble, here's how it all went down:
I started out taking a look at this tutorial from Chris Loves Julia. They used drop cloths as their base curtain, then added double trim around the edges. I'm a huge fan of Ikea Ritva curtains so I used those as my base instead, and purchased grosgrain ribbon trim from The Ribbon Retreat, just like Chris Loves Julia did.
The Ribbon Retreat is awesome. They have every color of ribbon you can imagine (
I chose
emerald.
) and it comes in a variety of widths (I chose 2.25"). I was super pleased with the quality and it came really fast. Plus, I couldn't believe how cheap the ribbon was - I received 30 yards for $17, including shipping. (Tip on figuring out the price: Take a look at the fine print - the prices listed are for five yards of ribbon each - took me a good 15 minutes to figure that one out.)
After I had my supplies, I hemmed the curtains a few inches using one of my many crafting best friends -
hem tape
. For the ribbon, all I did was hot glue the ribbon to the edge of the curtain. Yes, it really was that simple.
Since I butted the edge of the ribbon right up the the edge of curtain, I didn't have to do any leveling or measuring - I zipped around the edges in probably 10 minutes - and it would have been faster if this wasn't my first curtain.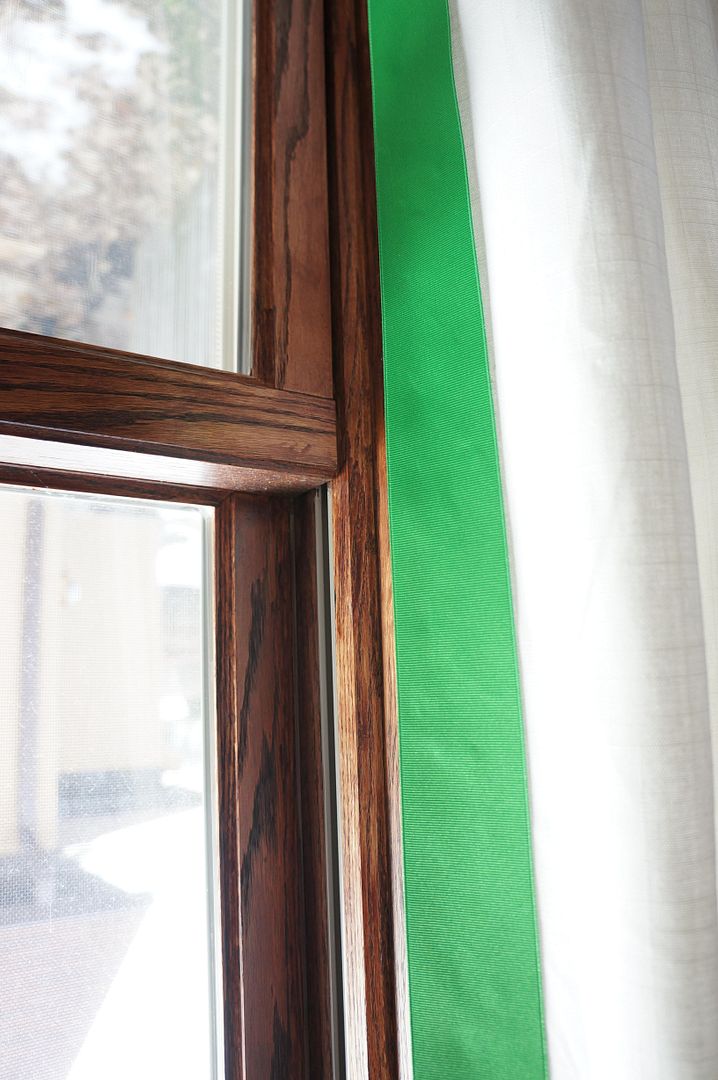 For the corners, I just wrapped each edge around the back of the curtain and secured it with more hot glue.

Repeat after me: "Laura is not a perfectionist. Laura is not a perfectionist. Laura is not a perfectionist."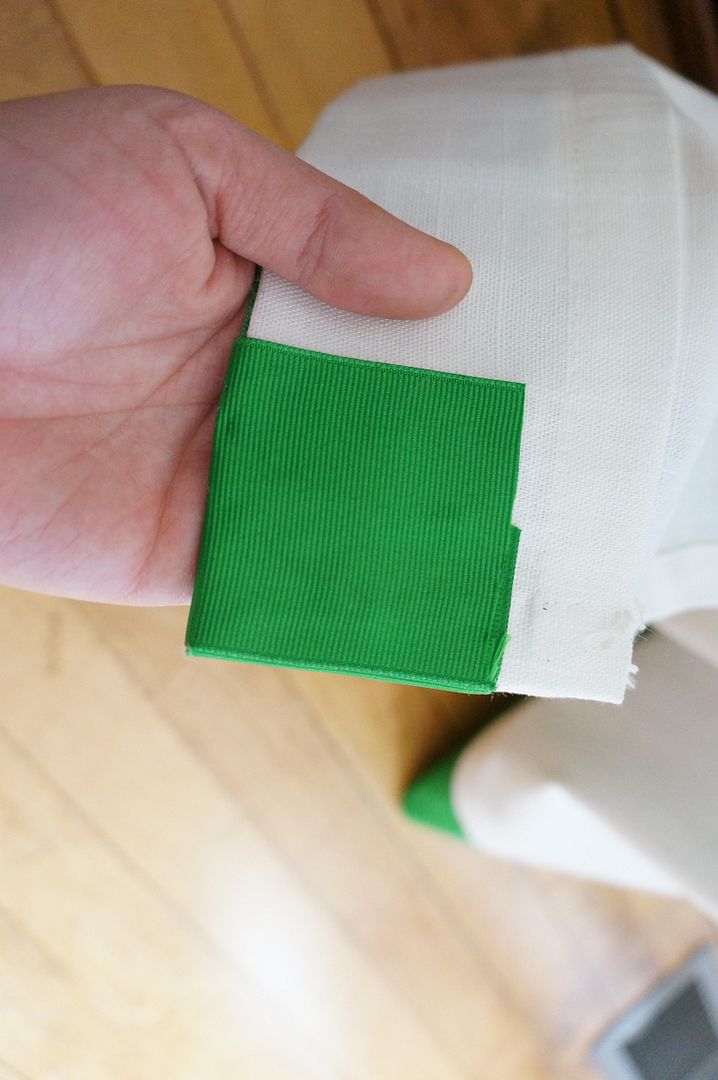 And that's all there is to it! Super easy and I'd definitely recommend it as a simple and inexpensive upgrade to some boring curtains. If you're curious about the cost (I ALWAYS am when I read people's blogs), here's the breakdown:

Four Ikea Ritva curtain panels (sold in packs of two for $24.99 each) = $50
Grosgrain trim from the Ribbon Retreat = $17
Hot glue sticks = on hand
Total for four curtain panels: $67.00 or $16.75 each.

I'd say that's pretty darn good.

Now I've just got to figure out what to do with my 30 yards of ribbon....