This post is a bit of a long time coming. We actually completed these DIY Growth Charts in time for Christmas, but I haven't gotten around to writing a post about them until now.
Terrible, terrible.
For Christmas this year, Mike and I wanted to make something fun for our nephews, but since they were both under a year and a half old, we knew they really wouldn't "get it" - aka - "appreciate all the work Uncle Ike and Aunt Yaya put into a DIY project." So I quickly began thinking about something I could give my brothers and sister-in-laws that could be used for their kiddos, but that they would appreciate and something that Mike and I would want too. We live a few hours away from my family so I thought it would be fun to have something similar in each of our homes that when the cousins visit each other they'd see the same thing in all the homes.
I had seen a few DIY ruler growth charts floating around blogland, and after showing them to Mike, we deemed the project worthy of our Christmas gifts and something that with the arrival of lil' Wif we would want too. Growing up, my parents marked my height on a wall in the basement, but we moved around a lot, so we always had to start over at each new house we lived in. I love that these can go with you wherever you move and you can even move them around the house if you like.
So we looked at a few photos for inspiration, and put our own spin on it. We ended up with two different versions:
But of course, like any project I attempt - it wasn't completely smooth sailing from there.
At first, I wanted to do a "triangle" take on the growth chart. The one on the right above: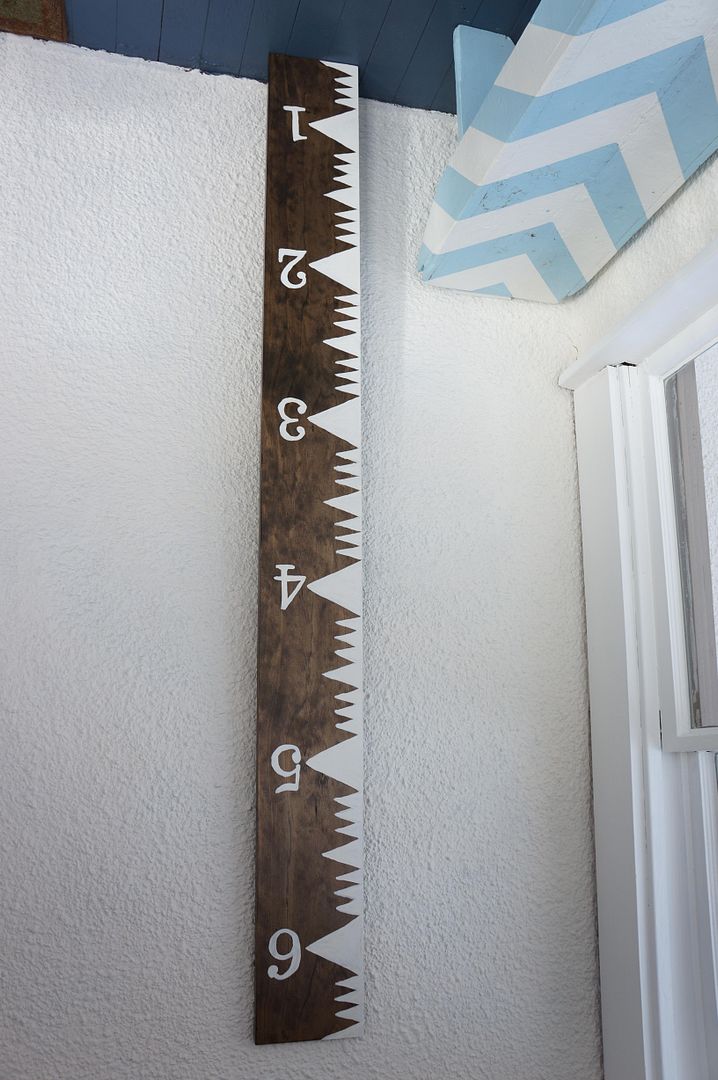 On this growth chart, the large triangle points mark each foot, the mid-sized triangles are every 6" and the small ones are every 2". But after completing the first one, I was incredibly frustrated. I created a template from cardstock, but the paint kept bleeding under it so in the end, I free-handed all the triangles and the numbers, which wouldn't have been a big deal, but the white paint required three coats to get saturated coverage, and I don't know about you, but I cannot trace a line perfectly three times in a row with a paint brush - even if I did grow up
under the tutelage of a professional painter.
(Quick tip: Most growth charts start six inches from the ground, so you can hang them above your baseboard, so that's what we did to ours. So technically, they measure from 6" to 6'6".)
Here's the template I tried to use: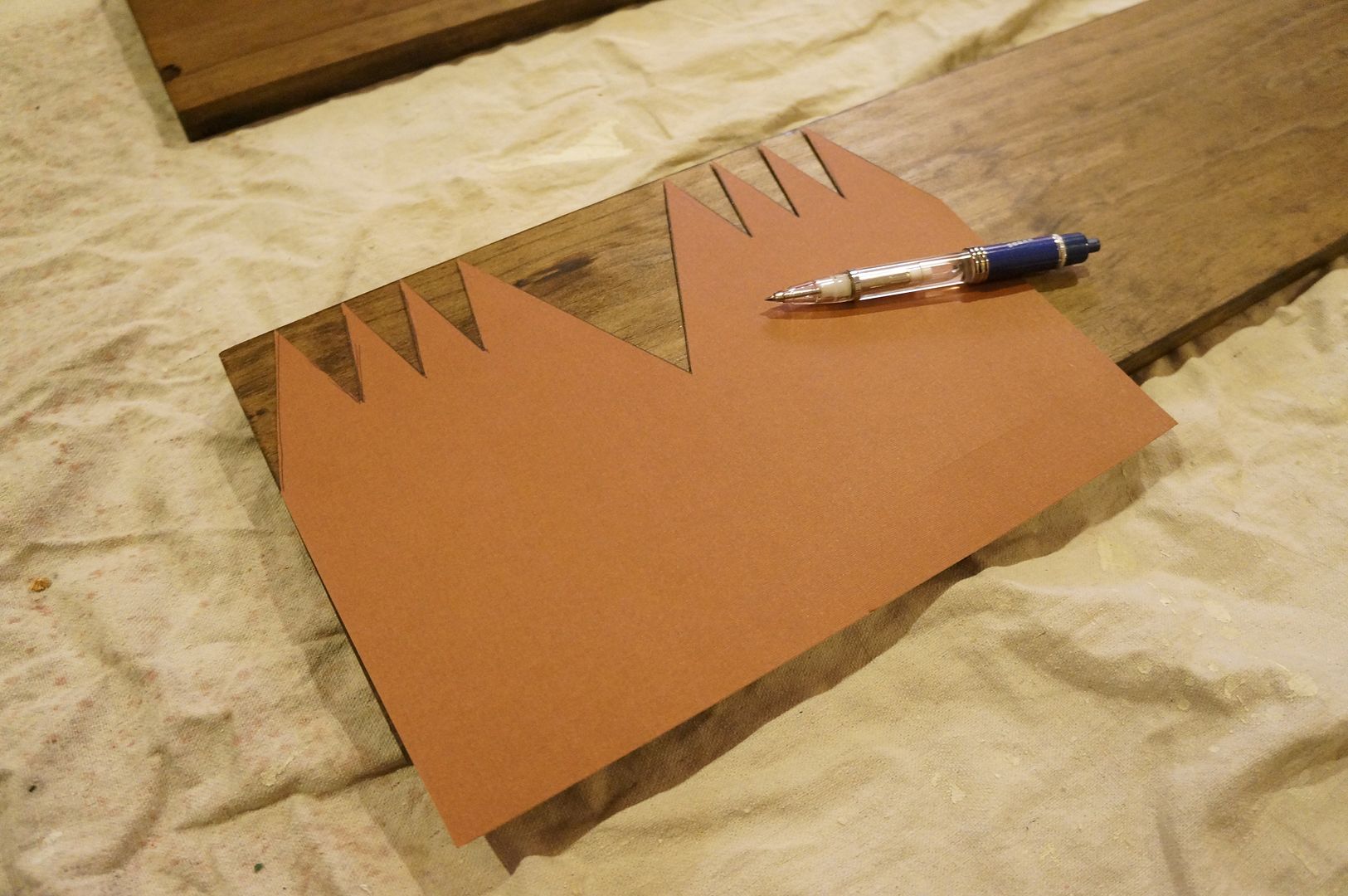 That thing was brutal.
The growth chart turned out okay - and looks fine from far away - but up close you can see the wobbly lines and the uneven finish of the paint. Which for me, meant that it wasn't good enough to give to my family.
Good thing we purchased supplies for three rulers - Mike and I now have the triangle one hanging in our house - pretty sure I'll end up redoing it at some point to look like my second try, but we were both pretty sick of working on them and just wanted to be done.
So, on to try two:
Oh yeah, this was more like it and it was way less of a pain in the butt as the first one.
Here's what we did:
First we purchased three six foot pine boards from Home Depot and stained both sides with one coat of
Minwax Dark Walnut Wood Stain
that we had on hand.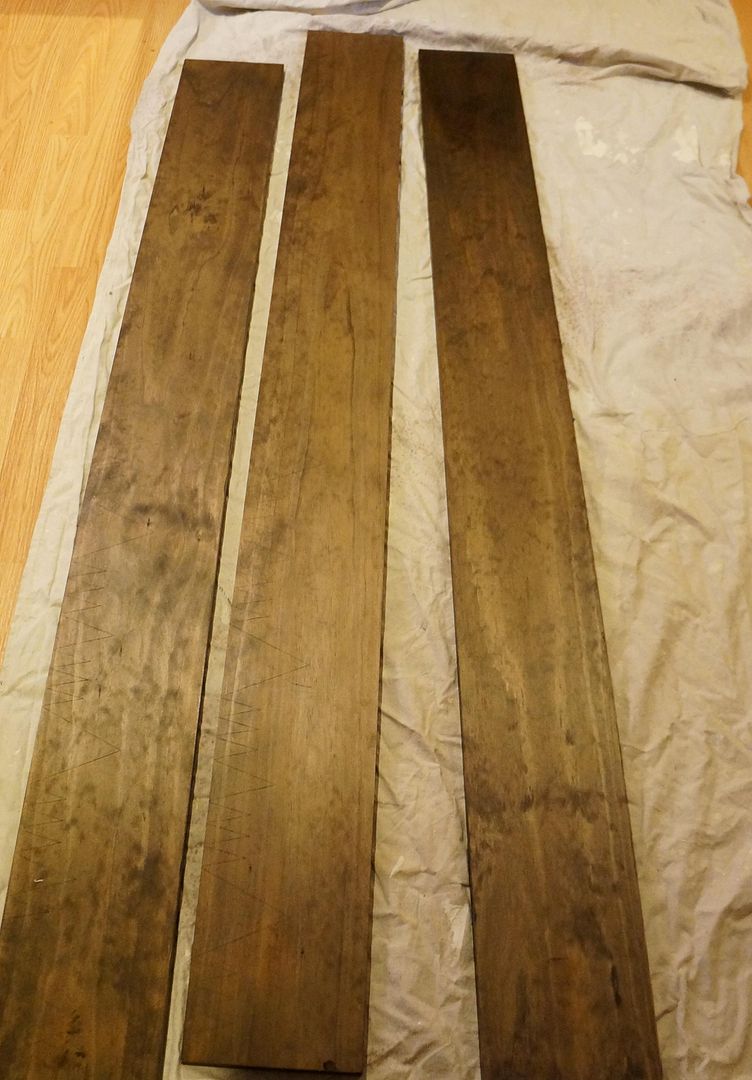 Then I marked off every foot (but remember, the first "foot mark" starts only 6" up, not 12"!) and then marked 2" above and below each foot mark to find where I should put my tape. I did this all the way up the chart, six times.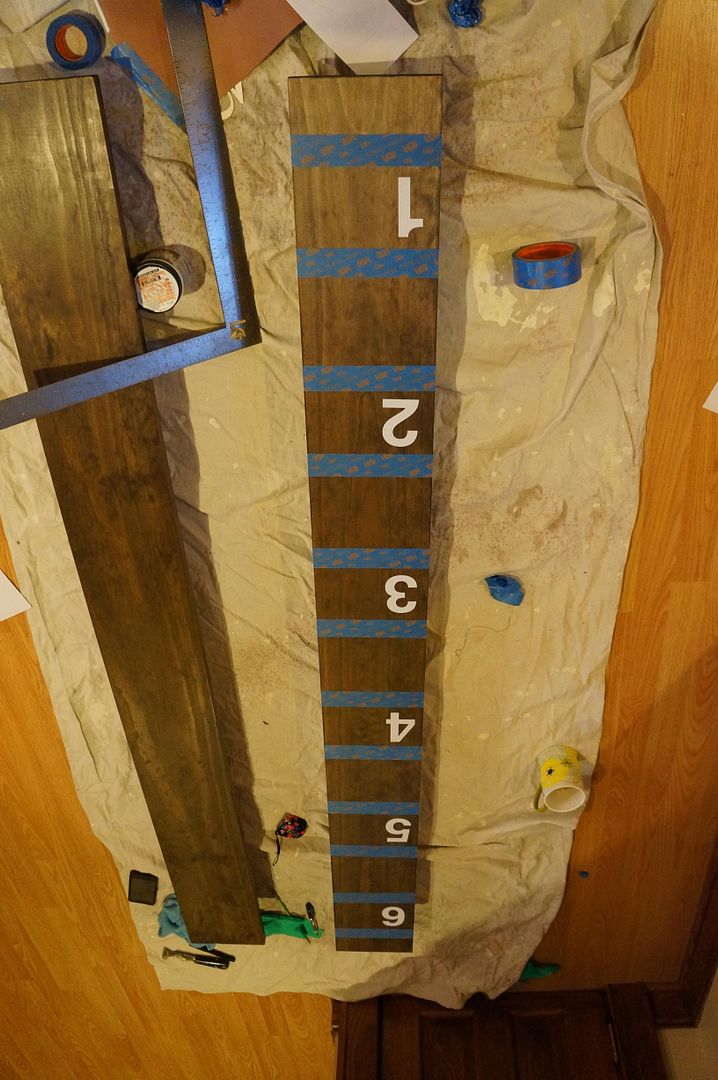 After I had my soon-to-be white parts taped off, I placed 3" number stickers (I purchased
these from OfficeMax
, but you can find them all over.) in the middle of each of them.
As all of you should know by now, I am not a perfectionist - so in the essence of time and completing the project before my coffee got cold, I just eyeballed where they should go. If you haven't guessed by now, the number stickers are there so I could paint over the taped off section and later just peel off the stickers to reveal the pretty wood underneath.
After everything was taped off, I painted on three coats of white paint - I don't know the actual name of the color, it was just an old tester can of white that I had lying around from when we were choosing the wall color in our living room.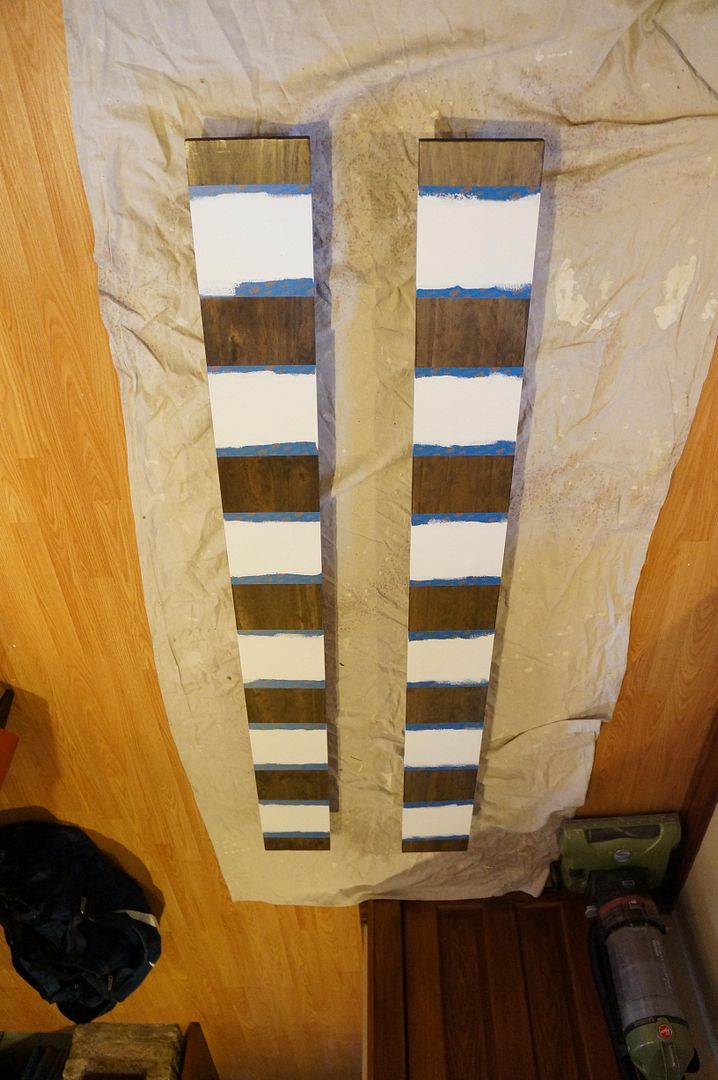 After painting, I let it dry, then began gingerly pulling off the tape and stickers.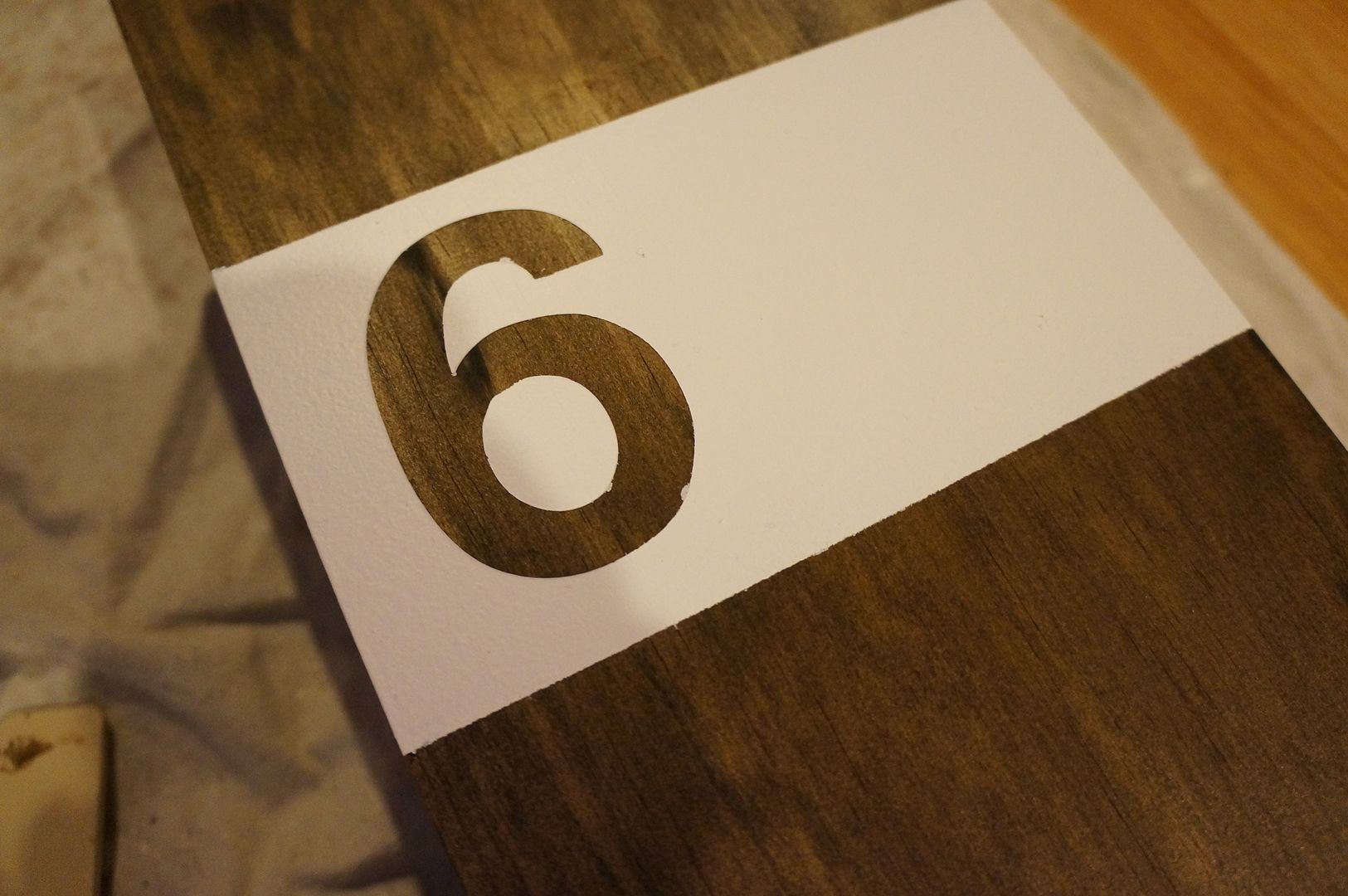 You can see here it didn't go perfectly, some of the paint bled under the tape and stickers, but not to fear - I knew how to remedy that. Just take a Q-tip dipped in fingernail polish remover and rub away. Don't rub super hard or you'll pull the stain off too - but a few light back and fourth strokes on the area you don't want paint, and poof! It's gone. See how crisp they ended up?
I only know this because Mike once spilled an entire - yes an entire - half gallon of paint all over our hardwood floors in our dining room. After wiping most of it up with rags, it still had a white "cloud" over the floor and paint was stuck in the crevices of where the wood joined. I tried everything I could think of to clean it up and wouldn't you know it, fingernail polish remover was the answer.
After I cleaned up the growth charts with the remover, Mike varnished them with stuff we had on hand and he added little hooks on the back so the growth charts could be hung on the wall.
I still think they are both pretty cool, I just wish the triangle idea had turned out. Now it just means more work for me because I still want all three to match. Ohh, well. One more look:
It was so fun to give these to my brothers and sister-in-laws at Christmas and it's been even more fun to visit their houses and see them hanging around.
Soon(ish) - sorry, can't commit to a posting date - I'll show you what I gave them to mark each child's height. For now, I'd say this is enough info in one post!
pssssttt...
here's a link to the tags that go with!